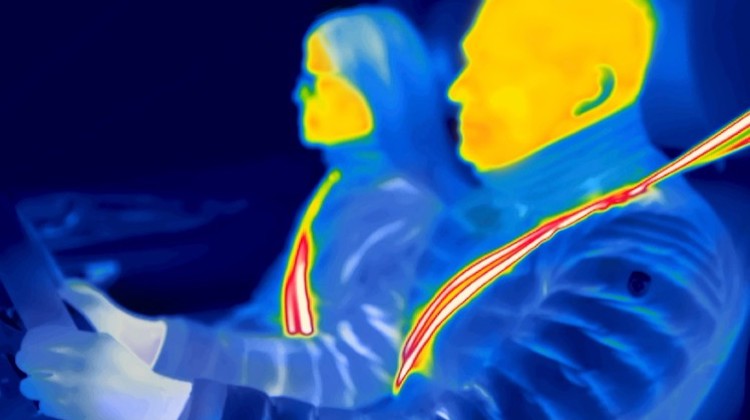 Auto supplier ZF just introduced heated seat belts it says not only keep occupants warm, but extend the range of electric vehicles.
EV drivers know that sub-zero temperatures result in shorter driving ranges. That's because — unlike internal combustion engines, which heat occupants with waste heat — electric vehicles must rely on batteries make and blow warm air. All that energy drains batteries quickly.
To combat the problem, most EVs rely on heated seats and steering wheels. Now, ZF has put heating elements in seat belts.
"ZF realized it would be much more efficient to warm occupants directly by means of electric heating elements – similar to an electric blanket," the auto supply says on its website. "This is the principle used for heated seats and steering wheels. Now, for the first time, an innovation from ZF makes 'all-around warming' of passengers possible. A heated seat belt warms the upper body and pelvic area evenly from the front. In combination with heated seats, the heated seat belt has the potential to provide occupant comfort quickly."
Heated seat belts are exactly what they sound like. "Small wires, known as heating conductors, are woven directly into the belt structure like threads. The contact elements for the electrical heating circuits are positioned in such a way that they do not interfere with either the operation of the belt or the retractor."
What's more, ZF says the technology reduces drain on the battery by up to 15%, resulting in longer driving ranges in cold temperatures.
But heated seat belts aren't just for EVs. Traditional automakers are just as interested in the technology, ZF says.
Related Stories: