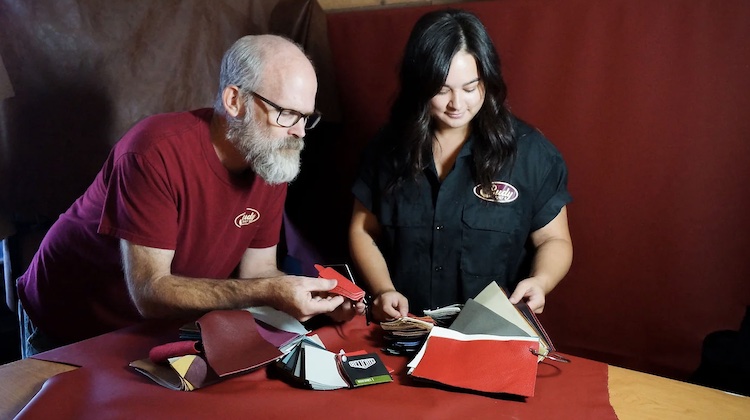 Tune in to Friday's episode of "NC Shop Talk" to hear Steve and LiAnne Budy of Budy Built, the first of three finalists announced for NC Auto Interior Of Year. They'll talk about their custom auto upholstery shop and entry for the NC Auto Interior of the Year "Young Guns Challenge."
"We've done everything we can to make this year's contest different. Our hope was to give young shops a crack at being noticed, featured, and recognized," said Mal Maher, NC Carpet Binding & Equipment CEO and podcast host. "Our first finalist, Budy Built, will be interviewed on the NC Shop Talk Podcast this Friday February 10."
Based in Newbury Park, California, Budy Built handcrafts custom interiors to perfection. Steve has 35 years of experience in the automotive industry, mostly in body and paint. He also taught himself upholstery. LiAnne, his youngest daughter, has 8 years of experience as a technical designer in the fashion industry, designing and making patterns. 
In 2021, the two decided to partner and launch Budy Built, their first foray into complete custom interiors — and judging by their entry for the contest, it was a great move.
Together, the father-daughter duo designed and built a stunning custom interior for a 1930 Model A dubbed "The Six Year Coupe." 
From its gorgeous bucket seats to its trunk, the classic coupe is awash in brown distressed leather and features flawless stitch work on its door panels, headliner, and even floor mats. 
Most impressive is that LiAnne completed this interior with only one year of auto upholstery experience under her belt. "She took the lead on all sewing and patterning on this build and killed it," Steve wrote on Instagram. "With only a year experience, we can't wait to see where she goes from here."
Neither can we. For a trim shop that's only been open for a year, Budy Built turns out extraordinary work.
"The competition is steep and Budy Built is 1 of 3 shops with a chance to bring home the hardware," said Mal. "For sure they are the real deal."
Budy Built was selected by a team of master trimmers as one of three finalists for the annual interior contest. This year's "Young Guns Challenge" focused on highlighting shops with 5 years or less of experience building complete interiors.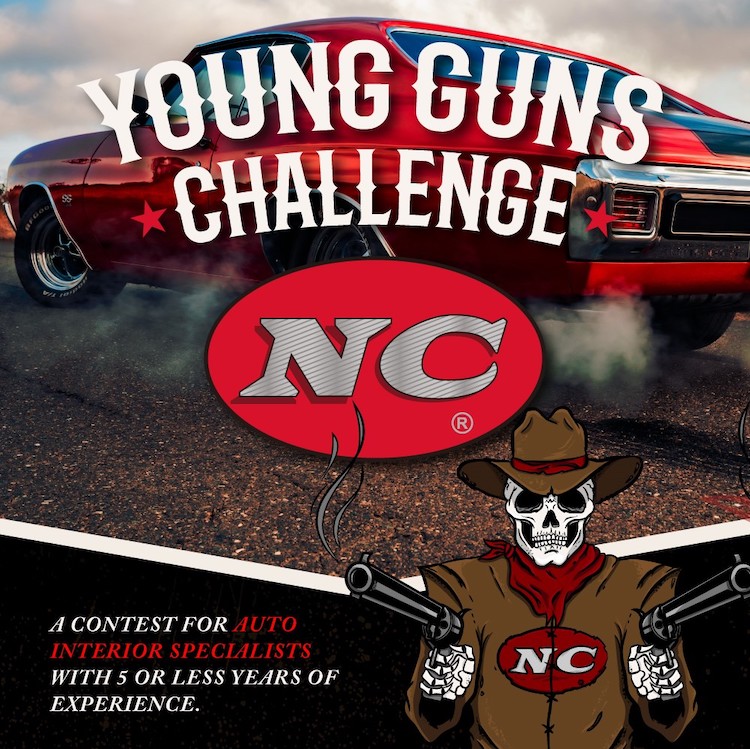 "We chose to focus this year's contest on 'young guns' to showcase new talent and encourage the next generation of trimmers to keep pushing the industry forward," Mal said.
You can listen to the episode on Apple Podcasts, Spotify or anywhere else you stream. Just click here, and make sure to subscribe and leave a review.
To learn more about NC Carpet Binding and Equipment, visit their website. You can follow Budy Built on Instagram and Facebook.