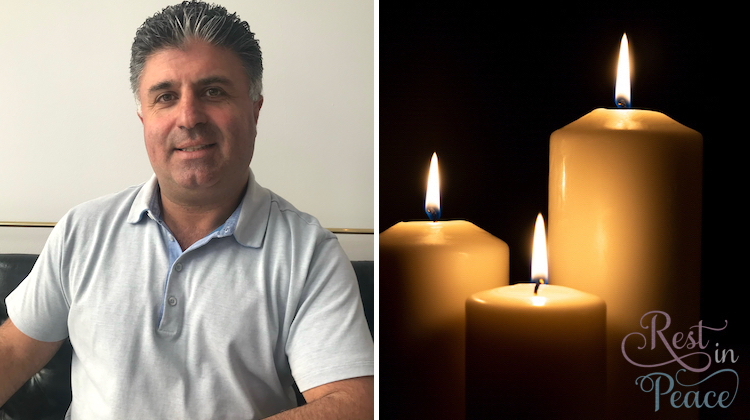 Jack Hagop Dekirmendjian, vice president of GAHH Automotive, has passed at the age of 53, leaving behind a beautiful family, too many friends to count and an indelible impact on the auto upholstery industry.
Jack was born on March 16, 1969 in Beirut, Lebanon, and immigrated to the United States with his family at the age of six.  After graduating from Taft High School in Los Angeles, California, he joined the family business, GAHH Automotive, which has grown to become the restoration interior and convertible soft tops industry leader.
Jack was beloved by the auto upholstery community for his easygoing personality and deep knowledge about convertible tops. In fact, trimmers often referred to him as a "genius" for his ability to walk them through difficult soft top installs over the phone.
He gained that knowledge through decades of hard work, starting in GAHH's manufacturing department, where he was also involved in research and development of new patterns and top installs. Even after working his way into an office job, Jack remained committed to learning everything there is to know about convertible tops. It wasn't uncommon for trim shop owners to call or email him with questions, which he gladly answered as the Vice President of Sales & Technical Support.
The secret to Jack's success was the relationships he forged with colleagues and trim shop owners across the United States, his son Johnny Dekirmendjian told The Hog Ring.
"I truly feel that my father's relationships with his customers is unmatched in any other business," he said.
"Because of his clear and open communication with his customers, my father was respected and loved by all of his customers. His coworkers truly loved to work with him as well. Due to his humility, kindness, humor and exemplary work ethic, Jack was everything one can desire in a coworker."
His greatest accomplishment
Despite enormous success in the auto industry, Jack always said that his greatest accomplishment was his family.
He married Tania, the love of his life, on July 1, 1995 and had three children: Twins Joline and Jacqueline, 22, and Johnny, 21.
Jack adored family life, spending much of his free time fishing, boating and driving sports cars with the kids. He also enjoyed taking his dog, Enzo, on walks to his favorite park in Malibu.
"I will miss the car rides I used to have with him, when it was just the two of us talking about what is currently going on within our lives," Johnny said. "He always gave the greatest answers to any question or struggles I had at the time due to his wisdom and intelligence. My father was my role model in every aspect."
Joline said her father will always be remembered for the endless love and care he showed his family. "I'll cherish every moment I had with my dad. But I will miss the little things the most. I will miss his good morning texts everyday. I will miss being his go-to person to run errands with," she said.
Jacqueline said the lessons he imparted will guide her through life, and that no one will ever fill the void left by her father. "No one will ever come close to the type of father that he was," she said. "He was the most caring and selfless person anyone will ever meet."
Indeed, Jack was immensely proud of the life he and Tania had built, and sought to share his blessings with their community by donating to charities, including the Children of Armenia Fund.
Jack died on July 18, 2022, but the impact left on his family and the legacy he forged in our industry will endure.
May he Rest In Peace.