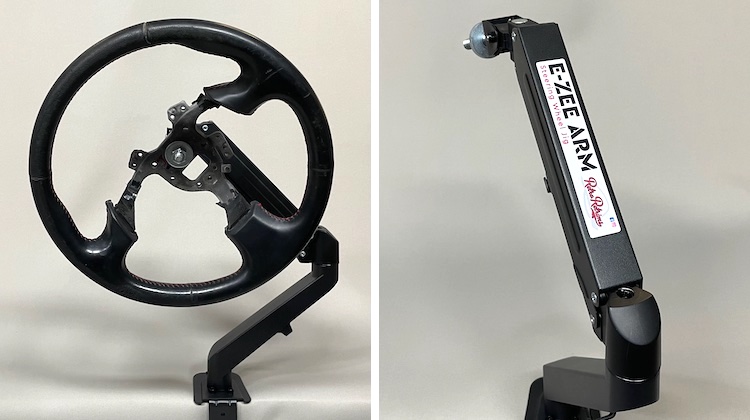 Upholstering a steering wheel without a proper jig is like trying to hold a live fish in your bare hands — no matter how hard you try to keep it still, it's going to slip out of your grasp, causing a lot of frustration.
Fortunately, there's a new product that makes upholstering steering wheels more manageable. The Retro Retrims E-ZEE steering wheel jig holds the wheel in place and easily adjusts so that trimmers can reach where they need without any problems.
Chris Burns of Retro Retrims in Somerset, England, recently sent us an E-ZEE steering wheel jig to test. Check out our review and find out how to get one for your auto trim shop.
Who is Retro Retrims?
Over the course of 16 years, Chris Burns and his customer-turned-wife Katie have built a stellar reputation for their English auto upholstery shop. They specialize in trimming classic Volkswagens and Airstream trailers. Their clients include movie stars, directors and even royalty.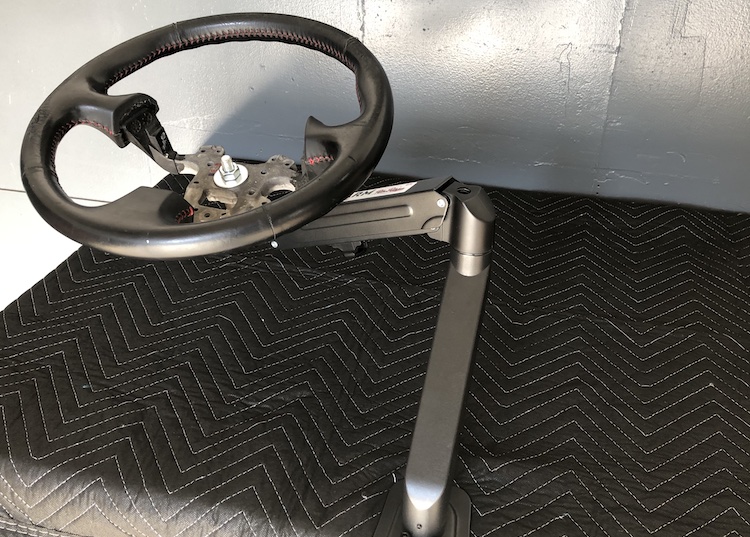 What's so special about their steering wheel jig?
In short, its versatility.
The jig is fully adjustable, with 180-degree rotation, 270-degree swivel, and a tilt from -90 degrees to +90 degrees. This makes it easy to achieve the perfect angle for your work and ensures that you can access all areas of the steering wheel.
For enhanced visibility while working, a magnetic LED light can easily be added to the E-ZEE steering wheel jig. By using the attached cable routing guide, the light's cable can be neatly routed through the jig, keeping it out of your way and preventing any disturbance during use.
What's more, the jig can be clamped from beneath your workbench or screwed on top, making it suitable for use in a wide range of workspaces.
Best of all, the E-ZEE steering wheel jig is well made and durable. It's metal construction means it can take years of abuse in a busy trim shop without breaking down.
How well does it work?
This thing works great! It only took a few minutes to put together. We decided to clamp it to our work station instead of screwing it in, as our work bench is pretty cramped. Attaching the steering wheel to the jig was also really easy. We were pleasantly surprised at how well the jig kept the wheel in place and how easy it was to move it around when we needed to.
What does it cost?
At £85.00 (about $105.64 USD) plus shipping, the E–ZEE steering wheel jig will quickly pay for itself on the first job. Click here to buy it!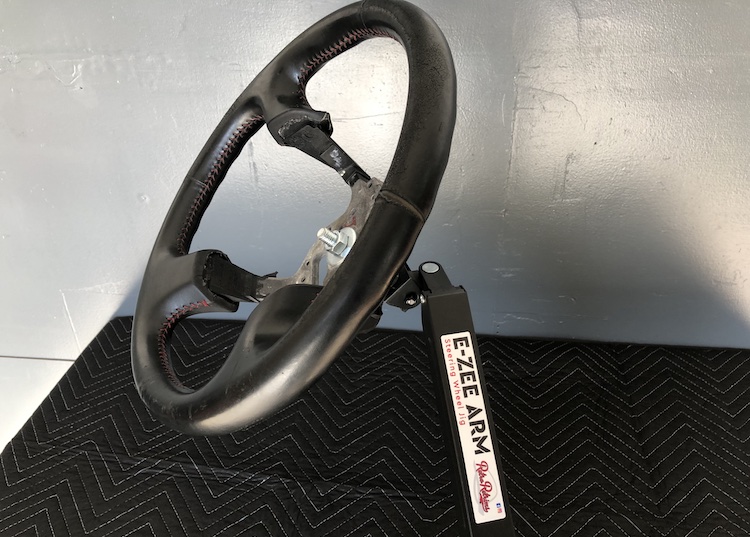 Anything else you'd like to add?
In addition to the Retro Retrims E-ZEE steering wheel jig tool, the company also offers a smaller version called the Steering Wheel Clamp. This tool is great for those who are looking for a more compact solution. The Steering Wheel Clamp is available at a cost of £39.99, making it an affordable option for trimmers with limited space or on a tight budget. Despite its smaller size, the Steering Wheel Clamp is still fully adjustable, with the ability to rotate and swivel to the perfect angle.
Reupholstering a steering wheel is tedious work made even more challenging when done without a proper jig to hold it in place. The Retro Retrims E-ZEE steering wheel jig prevents slippage, allowing you to focus on the task at hand. It's a top-quality product designed by a professional automotive upholsterer for professional upholsterers.
Where Can I buy an E-ZEE steering wheel jig?
For more information and purchase details on the Retro Retrims E-ZEE steering wheel jig tool, click here.