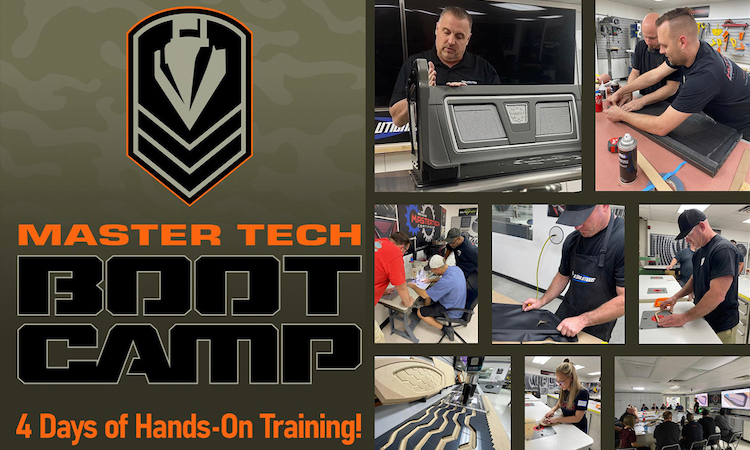 Mobile Solutions is hosting a MasterTech Boot Camp Training for emerging technicians to learn the fundamentals of design, fabrication, audio performance and system tuning.
The event, scheduled for June 10-13, will be taught by a host of seasoned instructors, as well as special guest presenter Andy Wehmeyer of Audiofrog, Inc.
"It's a training workshop that we've re-tooled to include many of the more up-to-date topics and skills training that today's emerging technicians are asking for," said Bryan Schmitt, founder and CEO of Mobile Solutions.
Here's what attendees will learn at MasterTech Boot Camp:
Drawing and interior design processes – visualize it, plan it then build it
Subwoofer enclosure design. table saw and perfect circle techniques
Styling and design ideas for subwoofer and amplifier trim panels (inlays, serviceability, etc.)
3-Dimensional (3D) routing techniques for OEM speaker grilles and layered panels
All new plastic fabrication segment including bonding, shaping and surface finishing
Fundamentals of stitching and sewing for automotive upholstery with live demos
Fundamentals of steel and aluminum fabrication with live demos
Introduction to CAD design and use in automation (CNC Laser, CNC Router)
Audio system fundamentals and design
Audio measurement tools and techniques
Proven – Step-by-step tuning techniques
Advice on how best to charge clients for these premium skills and services
The hands-on training will also include a student project that attendees build themselves over the course of the four training days.
Rookies serious about their careers should plan on attending. "We are hyper-focused on getting working technicians to elevate their skill sets and get targeted knowledge that pay dividends to their work product once back in their stores," Schmitt said.
The MasterTech Boot Camp Training will take place June 10-13, 2023 at Mobile Solutions Headquarters in Tempe, Arizona. The cost is $1,999.98. If you stay at The Tempe Hilton Garden Inn, you'll get a special rate and free shuttle to and from the event.
Mobile Solutions creates innovative tools and trainings that enable automotive technicians to design and build interiors unlike anything seen in the aftermarket. They also host the annual MasterTech Expo, the industry's leading education program. To learn more, visit mobilesolutions-usa.com and follow them on Instagram, Facebook and YouTube.