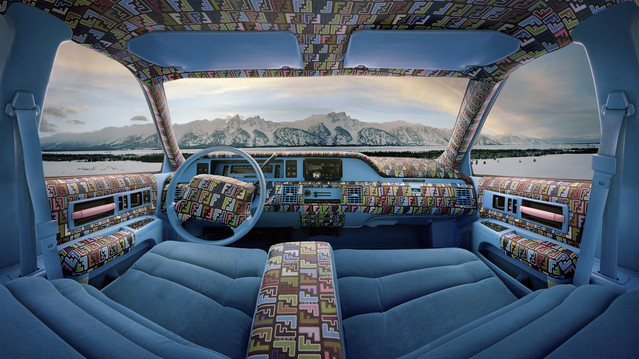 There's a growing subculture among auto enthusiasts that could affect the types of materials your trim shop carries. Folks, who have expensive taste, are incorporating high-end designer fabrics in the their vehicles' interiors. Inspired by the look and feel of designer-brand handbags, these people are asking auto trim shops to upholster their cars in Gucci, Fendi, Burberry and Louis Vuitton.
It's not just the prissy Paris Hilton type or Pimp My Ride sort of gangsters who are doing it. Working-class people who love their cars and want to make a bold statement are also getting in on the action. Even automakers are cashing in on the trend.
Of course, there are plenty of folks within that spectrum who are doing it wrong. But for those who do it right, it's a form of art.
Bloomberg, which recently published an article about Luis Gispert – a NYC photographer who has been travelling around the country taking pictures of these cars, writes:
For two years Gispert traveled around the U.S. in search of these people whose sense of automotive bling was less "Pimp My Ride" than "Primp My Ride." They borrowed from the designs of luxury brands such as Vuitton, Gucci and Dolce & Gabbana.
In Detroit, Houston and Los Angeles, he climbed into the backseat and captured the logo-heavy interiors with a large- format camera. Some car owners wore hand-made clothes or accessories to match their autos, so Gispert shot them as well.
"They had a level of obsession with their projects that I could recognize," said Gispert. "Artists feel the same way in their studios as these people do in their garages." […]
"All these brands represent high style, high fashion," said Gispert, examining. "It becomes a class thing."
"They are not concerned with reading Vogue, following the runways or even copying what's in stores,' said Gispert. "It's a fantasy they want to create." [more]
Whether you think it looks hip or tacky, it's smart business to keep abreast of the latest industry trends. If a customer walks into your shop and wants his/her car to look like the inside of a Fendi purse, you'll need to have swatches available and know where to order the fabric from.
Your best bet is to contact a trusted supplier and inquire about designer brand fabrics. Keep in mind, though, they are pretty expensive. You can shop online for cheaper prices, but be careful not to buy a knock off. You can get in a lot of trouble for buying or selling imitations.