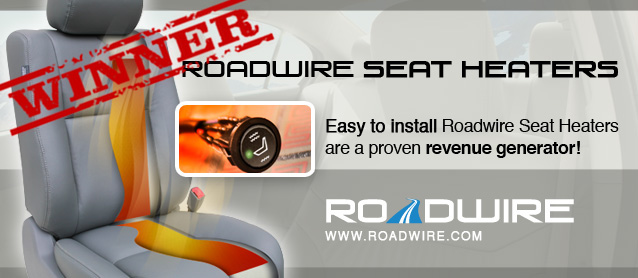 Congratulations to Russell Stare of ProStitch Auto Interiors and Upholstery, Inc for winning The Hog Ring's first ever contest for "Comment of the Week". Russell takes the prize, a top-of-the-line Roadwire seat heater kit!
Posting under the handle name Stitcher_Guy, Russell left the following comment on our post "5 Tips for Turning Callers into Customers":
Bravo to Point 4. That is the standard question I get at car shows and on the phone. I right off say that it helps to see the car (preferably in person, but digital pics will help), and to discuss the goals of the build. At car shows, when you have only a brief moment to answer, I tell them that every build is different, and depending on materials and amount of work it can run anywhere from $5,000 to $10,000 for an interior. I keep two brag books with me at shows so I can usually find their kind of car with an interior to show as a reference point.
It's amazing to me how many shops (mechanic, paint/body, upholstery, what have you) answer with "What?" or "Yeah?" It immediately puts up a defensive wall with the customer thinking "wow, they sure don't want to talk to me." No matter who in the shop picks up the phone, it should be nice, courteous and "thank you for calling. How may I help you?"
We chose Russell's comment because it was on topic, told a relatable story and offered a few tips on how shops could market their work ("brag books") and provide better customer service.
Congrats Russell and many thanks to everyone who participated in the contest for "Comment of the Week". Your comments were helpful, witty and, often times, funny. We hope you'll continue to read The Hog Ring and participate in our future contests.
Special thanks to Roadwire for sponsoring the week's contest. Check them out for all your leather and mobile electronic needs.