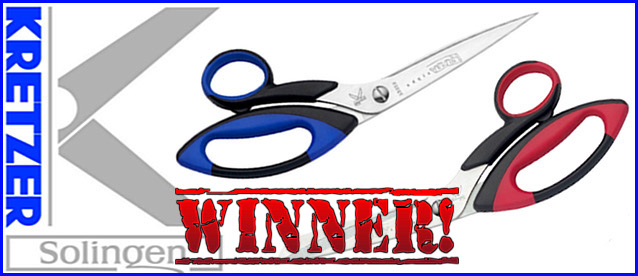 Congratulations to Jay of The Interior Shop in Billings, Montana for winning The Hog Ring's contest for "Comment of the Week". Jay takes home this week's prize: top-of-the-line Kretzer shears!
Jay wins for the following comment he left on "Why are Detroit Books so Hard to Find?"
These books are a life saver! We inherited a lot of original materials from a previous upholster. Have spent the last month identifying them. 300+original body cloths so far. Wouldn't have been able to do it with out these books. My collection spans from 82-2011.
Oldest material I found came out of an 82 Camaro!
I was told by a supplier if you can't afford to purchase them every year at least get them every 2 years. (The material usually changes about every 2 yrs). I wish they would send you the missing colors and actual material for the pieces represented with pictures though.
Jay's idea to use Detroit Books in order to identify and label original fabrics already in stock is a great one that's sure to help us better organize our shops. It's also a great idea to use the books to identify and label fabrics as they come in, that way we're always able to stay on top of our inventories.
We also appreciated Jay's advice on buying books every two years. Detroit Books run about $150 each. Knowing we don't have to purchase them every single year helps ease the financial burden of staying up to date.
Thanks Jay for the feedback and advice! You've been a regular reader and contributor to The Hog Ring and for that we thank you. Because of readers like yourself we've been able to build this online community for auto upholsterers into the success that it is.
To those that did not win – please continue posting comments. Kretzer has generously given us two more high-quality shears to give away! We'll be announcing a new winner every Monday for the next two weeks.
The rules are simple. Read any article (new or old) on The Hog Ring and leave a comment. At the end of the week our editors will choose the best comment and send the person who wrote it a Kretzer shear!
Special thanks to Kretzer for sponsoring the week's contest. Check them out for all your shear needs.