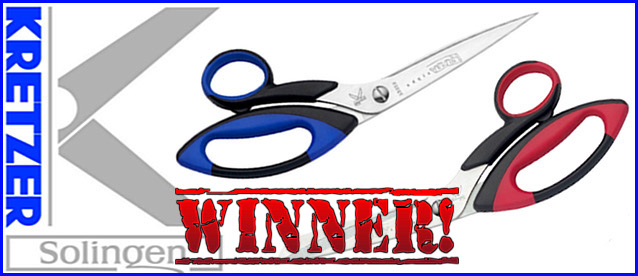 Congratulations to Phillip of Anderson Custom Interiors in Clarksburg, West Virginia for winning The Hog Ring's contest for "Comment of the Week". Phillip takes home this week's prize: top-of-the-line Kretzer shears!
Like Roy Keith, who won last week's prize, Phillip wins for the comment he left on "Start Charging What You're Worth".
Phillip, who recently took his hobby of auto upholstery full-time, sought advice on whether he should raise his prices to the level of what more established shops in his area charge. The comment sparked an interesting discussion between him and Naseem, and will hopefully raise a few more comments – as this is an issue that all auto upholstery shops deal with.
Phillip wrote:
Ok I have a question on this, because this is an issue that's been haunting my shop. I'm working my way thru college by running a one man custom upholstery shop.
Prior to opening my doors full time, upholstery was a hobby, not a profession. I started working for friends, then friends of friends, then complete strangers until I got over run with work and decided to jump into the trade full time. My problem is, I have only a few years professional experience and am just starting to develop a strong name in the area for myself. My work is highly comparable to the other shops in my area (a large percentage of my customers are their now-former customers), but they're charging twice as much for it.
I hate to raise my prices because I know they have years of experience that I don't, and they have an already established name in the area, but at the same time my schedule book keeps filling up and if my quality of work is strong enough that their customers are now choosing me instead, shouldn't I be doing better than half what their worth? How do you determine how much is fair for your area and your experience?
Naseem responded:
I think first you have to uncover why your prices are so drastically less than theirs before you make any adjustments. What do they offer the customers that you don't?
Is your shop licensed and insured? Are you working out of a business location or on the side from your home? How is your turnaround time compared to theirs?
It seems to me you're that the other shops in your area are charging fair market value while you are undervaluing yourself.
Established shops are expected to charge more than those working on the side. If you've officially and legally made the transition from side work to a legitimate shop than you'll need to change your prices to stay in business.
The reason you are so flooded with work is because you charge half what your competition does. But that isn't exactly an ideal situation. You're working twice as hard and putting in twice as many hours for the same pay. If I were in your position, I would rather higher my prices and consequently take fewer jobs but all the while keeping the same amount of revenue.
Thank you Phillip for reading The Hog Ring and for sharing your experience with us. We hope that you'll continue to visit our site to read industry news and connect with other auto upholstery professionals.
Phillip wins the last of our Kretzer upholster shears. To those who did not win, we thank you for continuing to comment on our articles and helping our community to grow. We highly encourage you to pick up a pair of Kretzer shears. They are, by far, the best shop scissors we've ever used and have no doubt you'll feel the same.
Special thanks to Kretzer for sponsoring these last four week's of give aways. To learn more about Kretzer and its products contact Kretzer's National Sales Manager James Crawford at (770) 295-2291 or visit www.kretzerusa.com.