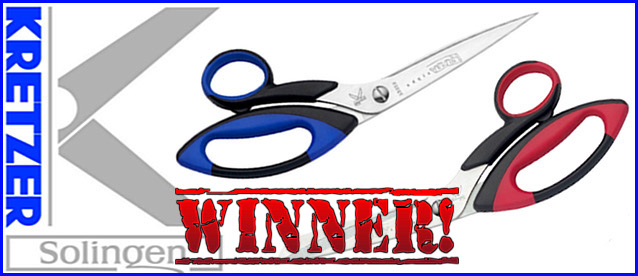 Congratulations to Roy of Roy Keith Classics & Customs of Hot Springs, South Dakota for winning The Hog Ring's contest for "Comment of the Week". Jay takes home this week's prize: top-of-the-line Kretzer shears!
Roy wins for the following comment he left on "Start Charging What You're Worth".
In 1994 I had a customer from North Dakota with a 37 Chevy coupe. The car was professionally built and very nice. We were discussing the interior when I mentioned that he could do a lot of ground work like tack strip and insulation that would save him quite a bit of money. What he told me changed how I viewed custom interiors and how I charge for them.
He was a dentist and told me "I get 100 dollars an hour drilling teeth. I can pay you forty and I'm still making sixty an hour. You will do the job in a third of the time it will take me and it will be done right. I don't want to do it." I remember thinking "This is the kind of customer I want to work for." He knew what he wanted and was willing to pay for a quality job that matched the build.
From then on I bid the cars so I could do the job the way I needed to for a top notch interior. I found the cars I began to get were of better quality and the customers were much easier to deal with. At 50 an hour I still believe I am under what I should be charging and need to make a price increase soon. I haven't raised my labor rates in a few years and am definitely behind the current inflation rate of the past year or so.
We applaud Roy for setting his standards and accepting nothing less. Often times auto trimmers feel they must discount their prices –  even accept a loss –  in order to secure a job. We understand that sometimes this is necessary, especially when bills are piling up. But Roy's experience shows us that if you stick to your guns, you'll eventually start receiving more of the types of customers and jobs you want.
Thanks Roy for sharing your experience with us! You've been a regular reader and contributor to The Hog Ring – even teaching us "How to Expertly Wrap a Cracked Dash" – and for that we thank you.
To those that did not win – please continue posting comments. Kretzer has generously given us one more high-quality shear to give away! We'll be announcing the winner on Monday.
The rules are simple. Read any article (new or old) on The Hog Ring and leave a comment. At the end of the week our editors will choose the best comment and send the person who wrote it a Kretzer shear!
Special thanks to Kretzer for sponsoring the week's contest. Check them out for all your shear needs.