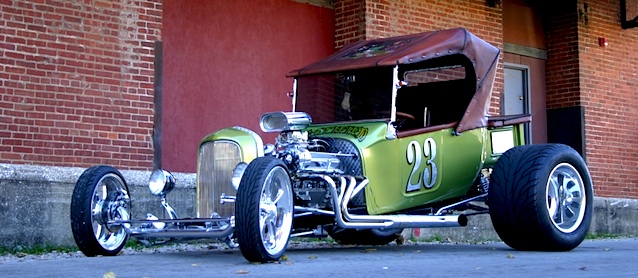 Until recently, I was under the impression that LeatherSeats.com was strictly a retailer of leather interior conversion kits to the DIY market. I had no idea that it's also a full-service automotive interior design studio with a warehouse based in Oklahoma City that's large enough to handle several high-profile custom interior builds at once.
After the company shared photos of a jaw-dropping 1923 Ford T-Bucket in our Auto Upholstery Forum, I knew I had to find out more – so I contacted owner Eric Paysnoe to tell me all about the build.
Here's what he had to say:
This particular project was a 1923 Ford Model T or "T-Bucket" which came to us as a completed vehicle with a black vinyl interior, Tweety Bird yellow exterior (it literally had Tweety Bird as the theme), and a black vinyl top.
[T]his owner wanted something one of a kind based around Ed Roth's character, Rat Fink. Rat Fink, being a cartoon character, is many times associated with flamboyant colors and over the top themes, but this look was worn out. We took a different approach using rich color tones for the leather with custom lacing and subtle chrome accents. We brought a hardedge to the interior and exterior by adding hand-tooled murals of the epic Rat Fink in various elements both on the top and trunk lid.
The T-Bucket…was completely disassembled. Every piece of the vehicle was sent off to either paint, chrome, or powder coating. The body was shot in a custom green with gold fleck. It was hand pin-striped and custom silver-leaf lettering was applied as well. Every bolt and screw for the suspension and most other parts including the majority of the engine were chromed. The frame was powder coated black.
The interior dash, doors, and seats were all shaped, molded, or carved by hand as well as all the aluminum pieces throughout the interior. The seats feature custom diamond pleats with alligator inserts.
The interior was specifically designed to be completely removable yet still had 3D contours and shapes that allowed it to flow from the dash to the doors and into the seats instead of the flat dash and door panels that are normally seen.
The customer wanted this vehicle to be complete with audio as well which can be an extremely difficult task to manage in this small interior. Two custom speaker pods were made into the hand-rolled steel top as well as a speaker pod built into the seat in between both passengers. A WWII trench knife was disassembled and used for the suicide-style clutch shifter. There are actually too many details to mention. Overall, this vehicle is the epitome of the "attention to detail" ideal. Not a single bolt was overlooked in this build.
So much went into designing this ride's upholstery that "attention to detail" sounds like an understatement. Even normally insignificant aspects, like the vehicle's dome light, were treated as centerpieces.
The build took over a year to complete, but was definitely worth the effort. The team at LeatherSeats.com started with a seemingly farfetched plan and executed it perfectly – holding nothing back. They used every technique from metal fabrication to hand tooling to complete a truly one-off interior.
"Everyone working on this project went above and beyond in every area for this build and deserve special praise and recognition," says Eric. "Thank you everyone on the LeatherSeats.com staff for this project and especially our special projects manager at the time."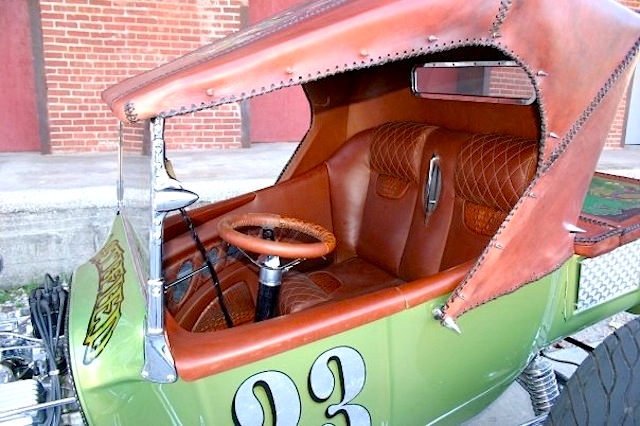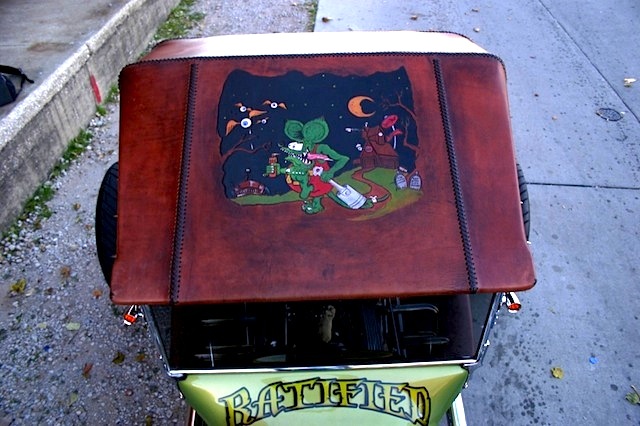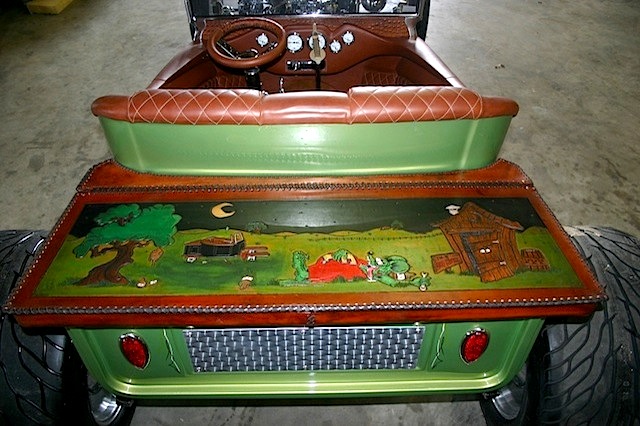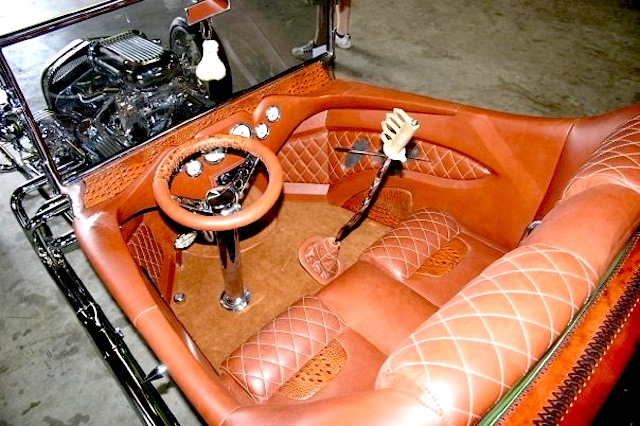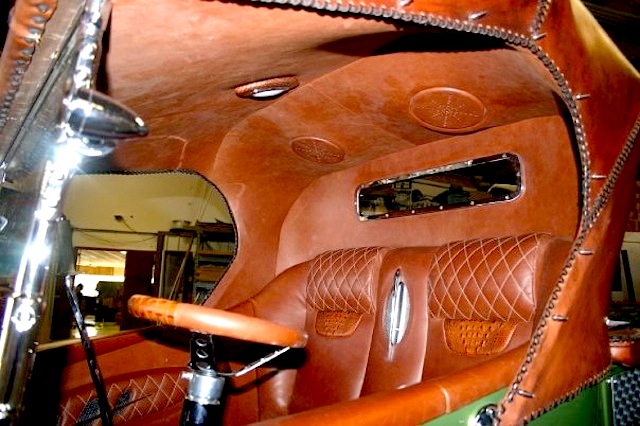 For more information on LeatherSeats.com, check out their website and follow them on Facebook.