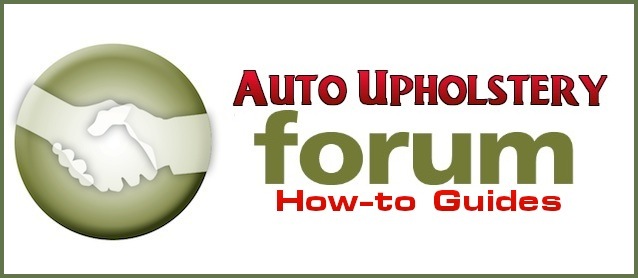 Members of our Auto Upholstery Forum recently requested a subsection dedicated solely to how-to guides. We thought the idea was a great one, so we added one titled "Auto Upholstery Tutorials". This subsection will be a place for industry professionals to post or request pictorials, videos and other helpful instructions.
The rules are simple:
1. Any member of The Hog Ring community may post or request a how-to guide.
2. Those who do must begin the title of each thread with either "How to…" or "Request: How to…"
3. If a "how to" is posted beneath a request, the user who made the request must change the title of that thread to "How to…"
4. If the request is met in an entirely new thread (which we prefer), the site's moderator's will delete the original request.
5. Requests made by users with incomplete user profiles will be deleted.
6. This forum is only intended for auto upholstery professionals. The presence of DIY-ers will not be tolerated. If a post is deemed to be written by a DIY-er, it will be deleted.
We're thrilled that so many professionals in our industry are using The Hog Ring's forum to connect, network and talk shop. Look out for additional site improvements that we'll be making in the near future that should help facilitate and strengthen our growing community.