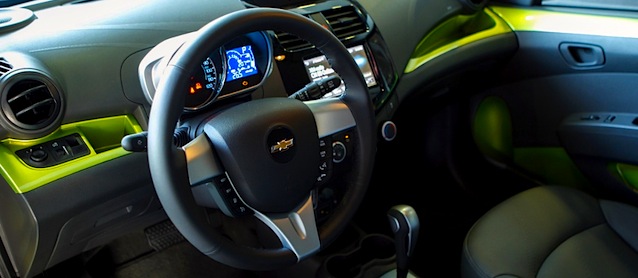 While most automakers are busy trying to mask their cheap plastic interiors in order to make them look high-end, Chevy has decided to take a different approach. At a recent press event for it's 2013 Spark, a Chevrolet executive told the crowd that Spark drivers will get what they pay for – which, priced at $12,245, isn't much.
Popular Mechanics explains:
"We're embracing the honesty and integrity of letting plastic be plastic," explained one Chevrolet executive at the Spark media launch, referring specifically to the color-matched trim that runs across the dash and door panels. A test drive later confirmed that there's certainly nothing faux about the hard plastic interior bits, and those parts certainly aren't masquerading as leather or plusher fabrics. [more]
While Chevy's honesty is admirable, you have to wonder whether it just shot itself in the foot. Studies have shown that customers are now, more than ever before, demanding better interiors. In fact, JD Power & Associate's "2011 Interior Quality and Satisfaction Study" found that more than two-thirds of the problems reported by new car owners reflect dissatisfaction with their vehicles' interiors. In short, they want higher-grade materials, more features and better designs.
Most automakers have responded by stuffing even their cheapest models with new gadgets and faux materials. To varying degrees, the Mazda2 and Scion IQ – both competitors of the Chevy Spark – have gone the extra mile to give the impression that they're not  cheaply made.
So what exactly is Chevy doing? Was the executive's remark a slip of the tongue or is the automaker really experimenting with truth in marketing?
We may never know. However, one thing's for sure – it doesn't bode well for Chevy.