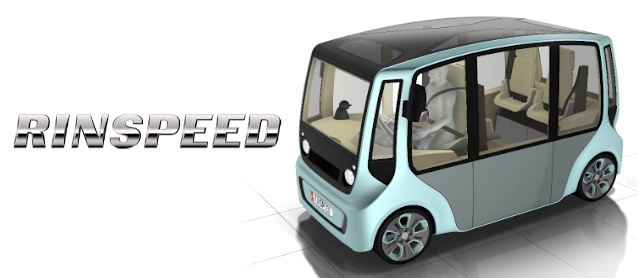 Rinspeed – a self-described "creative think tank for the automotive industry" – has unveiled some pretty bizarre ideas in the past (including inflatable upholstery), so it's no surprise that their latest concept is an electric minivan that features a stand-up interior layout.
The Rinspeed microMAX , which is the length of a MINI Cooper – but taller, is designed to carry passengers in an up-right position. It still features seat cushions, but they're comprised of seat backs with quarter-size bases for passengers to lean their backsides on.
According to a Rinspeed press release, the interior was designed this way to maximize space:
With a length of 3.6 meters, equivalent to that of a BMW Mini, "microMAX" not only offers plenty of space for the driver, three passengers and a stroller or shopping cart, it also provides the desired privacy. The vehicle height of 2.2 meters permits the installation of comfortable and space-saving upright seats equipped with safety belts – but above all, affords an outstanding sense of spaciousness with homey lounge character. A coffee maker, a refrigerator for the passengers' happy-hour drinks and unlimited connectivity for entertainment purposes or for working while on the move are also included. [more]
For better or worse, Rinspeed is marketing the microMAX concept as a cross between personal and public transportation that's only intended for short-distance travel. In other words, it's your own personal bus.
As unique as that sounds, I can't imagine too many scenarios in which owning a vehicle like this makes sense.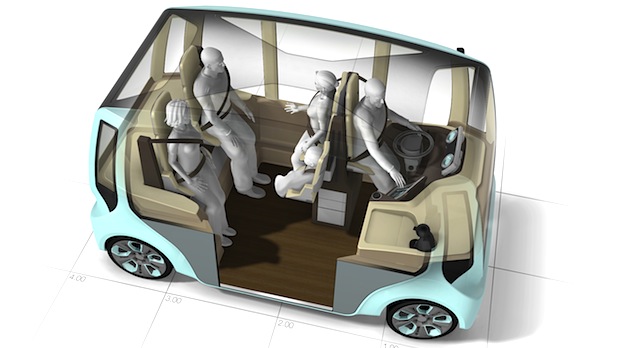 What do you think? Rinspeed believes that stand-up seating is the wave of the future. Do you agree? Why or why not?