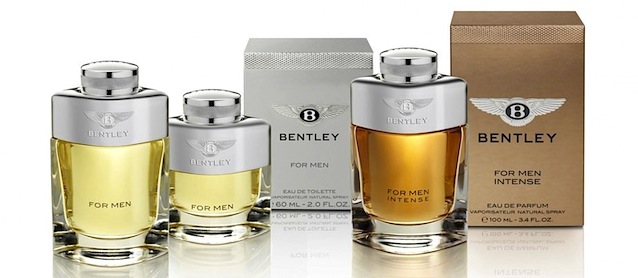 Tired of smelling like spray glue and exhaust? Bentley Motors has the answer. The British automaker has just launched a line of men's fragrance that smells like a super-luxury car's interior.
Why? We have no idea.
Business Insider reports:
The "Lalique Bentley Crystal Edition" is a collaboration with French crystal maker Lalique, which created a crystal bottle topped with the Bentley "Flying B."
It will hold an eau de parfum created by Mylène Alran from perfume house Robertet. Bentley describes the scent as "a fitting elixir of fine woody notes and exquisite leather to complement the epicentres of excellence within Bentley's craftsmanship."
Meaning, it smells like the wood and leather-filled interior of a Bentley.
The two other fragrances are "Bentley for Men" and "Bentley for Men Intense" (the "high-impact" version). Both are created by French perfumer Nathalie Lorson at Firmenich, and also feature "fine wood and leather notes." [more]
Here's the kicker – a 40 ml bottle of "Lalique Bentley Crystal Edition" costs $4,656. Yes, that's almost $5K to smell like a swatch card.
If that's too expensive, you can opt for the more affordable "Bentley for Men" product range – which includes shave balm, shampoo and bodywash – and starts at $66.74.
While you're at it, pair the new scent with a Platinum Dirt leather jacket, which is made from up-cycled car interiors. Then you'd be really cool… or not.