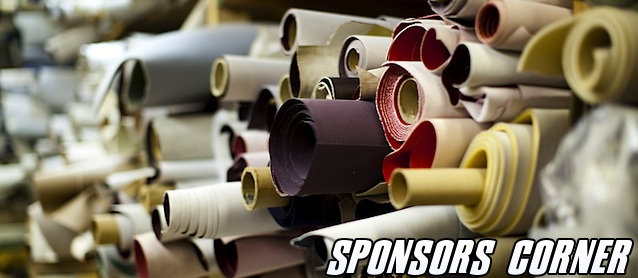 Check out this month's "Sponsors Corner" for news and updates from the companies that help keep The Hog Ring running.
This month's issue of "DLT News" cuts through all the ad puffery about eco-friendly materials to dish on vinyl, polyurethane and leather. Which is the safest for the planet? You'll have to download your free copy of "DLT News" to find out.
What's more, 2013 Detroit Books are now available! Reserve your copy before it's too late. They will sell out.
That's not all. DLT has loads of great deals on products from stainless steel and aluminum tubing to Berber carpet, and even Nassimi's exclusive line of faux leather and suede, the Symphony Collection.
Of course, what issue of "DLT News" would be complete without an article from The Hog Ring? Checkout part three of our exclusive interview with Sue of the Discovery Channel's hit TV show "Fast N Loud" on the back cover.
For more information on DLT Upholstery Supply's products and services, call (800) 458-3500. Or, if you're in the Chicago area, stop by their massive warehouse.
Like most of our shops, Electron Top is a family business – so it's no surprise that its team dedicated their June issue of "Keep in Touch" to their late father and founder Fred W. Strauss, Jr.
They write:
Dad was an outstanding father who loved us so much; even with all our faults. He never passed an opportunity to teach us or show us something, even if WE weren't always receptive to learn. His responses and conversations with us were always honest, even if it wasn't what WE wanted to hear. He never compromised his morals, principals or beliefs for popularity or recognition, which many times led him…..to stand alone. Dad was an incredible example of how a father should be … "Not by words … but by works!" […]
Dad also made many wonderful friends in the Trim Industry. We are especially reminded of his presence here, at Electron. Dad always came to work with a smile and the attitude "A day without obstacles is boring."
For more on Fred, download your free copy of "Keep in Touch".
With convertible-top season in full bloom, now is the time to establish a business account with Electron Top – one of the few soft-top suppliers that absolutely refuses to sell direct to the public. For more information on Electron Top's products, contact (800) 221-4476.
DLT Upholstery Supply and Electron Top have signed on to become sponsors of The Hog Ring – championing our cause to strengthen and grow the auto upholstery community, as well as helping to offset the cost of running this website.
Please show your gratitude and support by giving them your business.