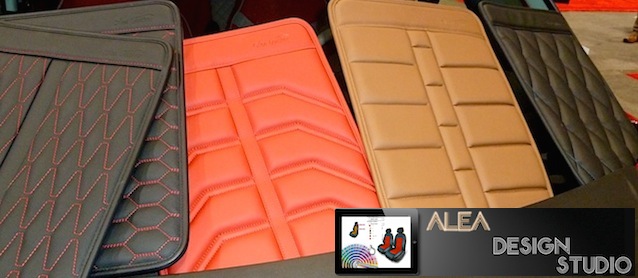 Forget what you know about diamond pleats — even long-tail and double-stitch variations. Alea Leather's Balenio insert puts a whole new spin on the traditional pattern.
Unlike anything we've seen before, the all-new Balenio insert features diamonds of various shapes and sizes, as well as side stitching that gives each one a three-dimensional look.
Alea Leather explains:
"Most diamond patterns use the same shape and dimensions throughout the insert, but the Balenio is here to break the mold. Multiple shaped diamonds are perfectly fitted together to create a unique and variant look to the leather interior."
What's more, every seat cover is made to order — so customers can mix and match any color leather and thread they like, giving everyone their own unique look. Just visit Alea Leather's "Design Studio" to see what's available.
From Ferrari inserts to hexagon pleats, Alea Leather offers a long list of unique and attractive options no other seat-cover manufacturer can match. It goes without saying that they're of the highest quality too.
To set up a business account with Alea Leather, call toll-free 877-607-8943 or visit AleaLeather.com.