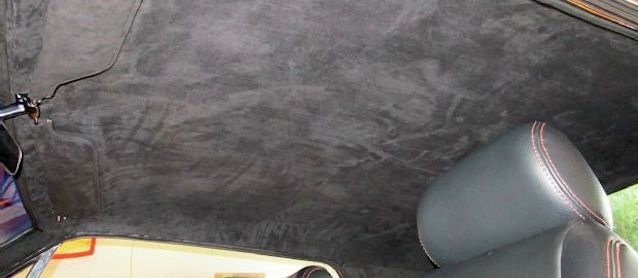 Over the last few years TMI Products has been on a quest to mass-produce custom-looking hot rod interior parts. We've already told you about the seats and door panels they make for 1960s and 70s era muscle cars, now check out their latest offering: one-piece headliners for 1964 – 1968 Ford Mustangs.
The headliner is available for coupe and fastback models, and doesn't require a vehicle's window glass to be removed for installation. The folks over at Mustang 360 recently mounted one in a 1965 Ford Mustang coupe and published an informative description and tutorial on their website.

Mustang 360 writes:
"TMI's new molded headliner is made from a thin fiberglass mold for light weight, yet strong enough to retain its shape after installation. The molded headliner features a Unisuede material, available in black, gray, red, dark red, and parchment, or you can optionally configure the new headliner with stock-look vinyl in OE colors. The headliner includes A-pillar trim covers covered in the same material, and rear quarter trim pieces are included as well. Best news of all (especially for the tall folks in the audience) is that the new molded headliner increases head room by well over an inch." [more]
The recent trend of aftermarket upholstery suppliers mass producing custom-looking upholstery and interior components that would have once required interior craftsman to make raises the question: Do you think these products are making our jobs easier or costing us customers who now think they can do it themselves?
Personally, I believe they make our jobs easier. Products like one-piece headliners and sport-seat foam cushions eliminate the substantial amount of fabrication time required to make them and serve as a great base for trimmers to build on top of. After all, there's still a great deal of customization that can be done.
Also, just like with most other aftermarket parts, getting a perfect fit and finish requires installation by a professional. Past experiences have shown me that most car owners would rather pay to have the job done right than to risk damaging the product while installing it themselves.
What do you think? Share your thoughts in the comments section below.