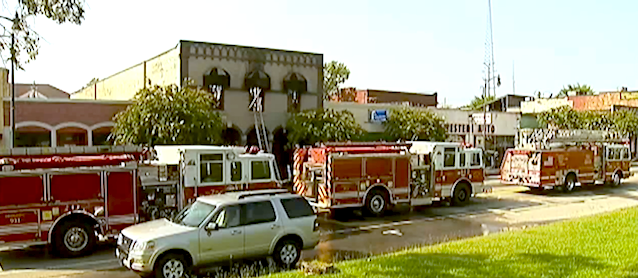 Sad news to report from Douglasville, Georgia — Town and Country Fabrics and Upholstery fell victim to a massive fire last Tuesday, destroying the business and sending one fireman to the hospital.
The upholstery shop, which trimmed everything from furniture to boats and cars, was a community staple and even housed in a historic building.
Local news channel WSB-TV 2 reports:
Town and Country Fabric and Upholstery burned from the basement all the way through the top of the second story.
Police say the store is most likely a total loss.
The building that burned down and others that surround it date back to the early 1900's. The old construction and combustible fabric, upholstery supplies and furniture made the fire difficult to put out.
"When they got here, the flames were bad. The division chief thought the floor might collapse, and sure enough it did. This is a historic building with old wooden floors," said Douglass County communications director Wes Tallon. [read more]
Local officials said one firefighter was hurt while battling the blaze, but is expected to make a full recovery.
"The firefighter…is doing well & appreciates everyone's thoughts & prayers," the Douglasville fire department said on Facebook and Twitter.
Protect Your Shop
Situations like this are always tough — and our thoughts and prayers go out to all those affected, especially the injured firefighter.
However, it would be an even greater tragedy if we didn't learn anything from this event.
If you haven't already, please fireproof your upholstery shop as much as possible. The adhesives, chemicals and fabrics we keep in inventory are extremely combustible and should be stored with this in mind.
Furthermore, make sure that your building is up to code and your insurance policy is set at a sufficient amount and active. Remember, if your shop goes up in flames, you're not only responsible for your business, but all the vehicles inside.
For more tips, read "Guarding Your Shop From Natural Disasters." It provides some helpful advice on how to limit your losses in the event of a fire.