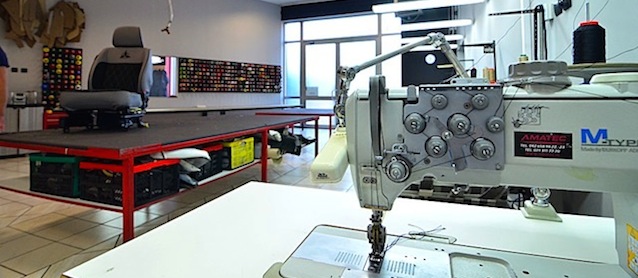 Whether you're opening a new auto upholstery shop or reorganizing your current one to maximize space, check out the latest "Interior Insights" article by Harry Weimann – director of education at WyoTech Blairsville and owner of Weimann's Interiors – in the September issue of Performance & Hotrod Business magazine.
The piece, titled "Shop Dynamics: Setting up the trim shop for efficiency and profit," gives a fantastic overview of everything you'll need to know — from what tools to buy to where to place them in order to ensure productivity.
Here's a short excerpt from the article:
The best possible shop layout will be determined by the size and space that you have. Ultimately you want to organize workstations to have whatever you need at your side.
The sewing and layout area should be in a space that is free of air debris such as grinding dust and spray glue. If that is not possible, keep this area as far away as possible from where vehicles are being worked on.
If you are pulling vehicles into the shop, it's nice to have separate bays or stations for each trimmer to have an area for his toolbox that can be next to the vehicle that they are working on. This is convenient when pulling seats from vehicles as well as other work that needs to be performed.
The trimmer should also have a set of sawhorses and a table to disassemble and reassemble seats, door panels, etc., next to the vehicle. This type of shop setup works well for general trim work that is being done on a daily in-and-out basis.
If space permits, there should also be an area for booth for spraying glues that is well ventilated and preferably away from the main shop area. This area is great when installing vinyl tops, simulated convertible tops and any type of work that needs extreme ventilation.
To read the full article, click here and turn to page 76. If you have any advice to add, please share it in the comments section below.
[Photo Cred: Carlex Design's amazing garage]