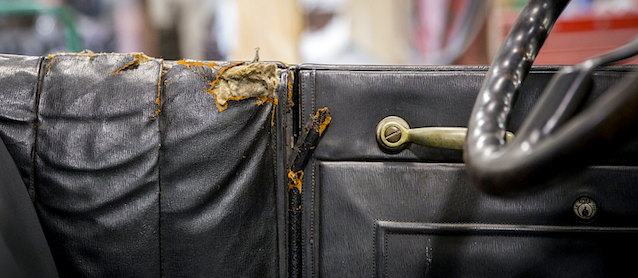 While most auto upholstery shops repair, restore or customize car interiors, some also specialize in preserving them. The customers that these shops attract are a rare breed — more interested in freezing their classic cars in bad state than rehabilitating or enhancing them.
The New York Times recently published an article about this growing trend, focusing specifically on the mother of all car shows: Pebble Beach Concours d'Élégance. Vehicles entered into the show's "preservation" category are often priceless classics that look shoddy not because their owners go out of their way to beat them up, but because they allow them to age gracefully. In other words, these are no rat rods.
Highlighted within the piece is Steve Babinsky of Automotive Restorations, Inc. — a shop in Bernardsville, NJ, that preserves many of the cars featured at Pebble Beach. Below is an excerpt from the article in which Babinsky explains how he preserves their interiors.
In preparing cars for the preservation classes, shops like Automotive Restorations walk a fine line between repair and restoration.
Engines may be disassembled and minor problems fixed, but they are put back together without new paint or plating. Instead of cutting and sewing new upholstery, Mr. Babinsky's staff has fixed leather seats that were dry and cracked by taking them apart, removing the upholstery piece by piece and gluing a canvas backing to the leather for reinforcement, then reassembling the cover, springs and padding.
"You have to be a little sympathetic to the materials," Mr. Babinsky said, "and you have to know how to put it back together so that it looks right."
There are times when the cautious conservator's approach will not work, as in the case of a 1932 LaSalle that the shop prepared for a previous Pebble Beach concours. The driver's-side seat bottom could not be saved, so a replacement piece of leather was obtained; the new material was laid out on the driveway and driven over — it was also beaten with chains — before being sewn into the seat.
"It gave the car an even patina," Mr. Babinsky said, adding that the repair went unchallenged. "If somebody had asked, I would have told them. But nobody asked." […]
Aging classics become increasingly delicate and difficult to use, as convertible tops become less able to withstand wind without tearing, seat springs collapse and upholstery wears out, said Al McEwan, a veteran Pebble Beach judge from Redmond, Wash., who spoke by cellphone from the side of the road after getting a flat tire in his original 1930 Hispano-Suiza.
"Honestly, it'd be easier to restore this car than to keep it the way it is," Mr. McEwan said.
To read the full article, check out "To Preserve and Protect" in The New York Times.