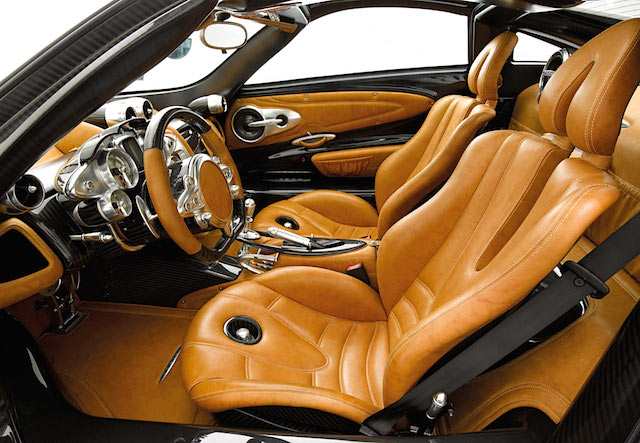 In the rarified class of super-luxury hypercars, an eye-popping, jaw-dropping, mind-melting interior is the expectation — not exception to the rule. That's why Italian automaker Pagani Automobili S.p.A. has done very little to promote the gorgeous interior of its $1.6 million Huayra.
Read Pagani's website and you'll find all sorts of impressive facts and figures about the Huayra's engineering and performance capabilities, but you'd be hard pressed to find any substantive information about its cabin. In fact, the vehicle's online brochure barely even mentions its leather seats. Buried deep within a long and detailed explanation of its build specifications is this line:
The seats provide both the comfort to make long trips enjoyable as well as the lateral support required when the g-forces build up on extreme driving.
Seriously, that's it! In a day and age when automakers are employing the cheesiest gimmicks to make their interiors stand out (Nissan's water drop headliner, anyone?), Pagani — which has designed what is arguably one of the coolest interiors of our time — will barely say a word.
Then again, perhaps that's because words don't do it justice. Check out the video below to see how Pagani combined handcrafted leather, machined aluminum, carbon fiber and the latest in computer gadgetry to create automotive art. (Skip to 4:24 to see the interior)
What do you think? Share your thoughts on the Pagani Huayra's interior in the comments section below.