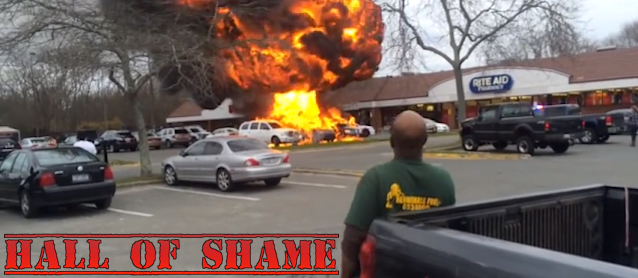 Scott Kemery of Bridgehampton, New York, made national headlines last week when he attempted to kill the bedbugs living in his rental car by soaking its upholstery in rubbing alcohol — before lighting a cigarette.
The flammable liquid instantly ignited, setting fire to his car, two other vehicles and even himself.
The New York Post reported:
Kemery told cops he rented the car in Florida for the drive to the Hamptons, where he discovered the critters.
A friend had suggested he try killing the vicious critters by dumping the alcohol on them, the sources said.
"He said he had bedbugs in the car, and someone told him if he saturated them with alcohol, it would kill them," Suffolk Police Arson Detective Sgt. Edward Fitzgerald told Newsday.
"So he went and bought some alcohol, he poured it all in there and he sat in his car and lit a cigarette," Fitzgerald added.
Detectives are now trying to determine the vehicle identification number of the burned out vehicle to confirm Kemery's story, the cop added.
"Everything's burned up, so we're going to wait until the vehicle-theft section gets us a confidential VIN number. Then we'll know for sure," Fitzgerald said.
The fire doesn't appear to be criminal in nature, he said. [read more]
Though Kemery, 44, managed to crawl out of the car before it became fully engulfed, he didn't escape unscathed. According to local news reports, he was rushed by helicopter to a nearby hospital with second-degree burns.
The good news, however, is that he finally got rid of those pesky bedbugs!
In lieu of presenting Kemery with a "Darwin Award," The Hog Ring is inducting him into our "Hall of Shame."