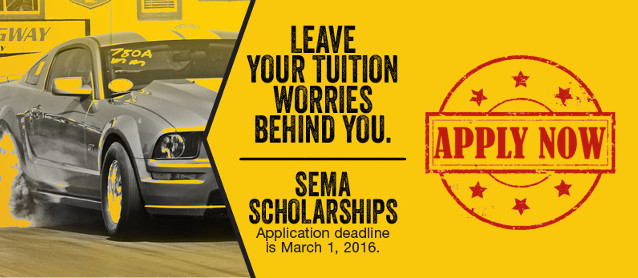 The SEMA Memorial Scholarship and Loan Forgiveness Program are back! If you're enrolled in an auto upholstery program – or – plan to use your degree to advance the industry, then you might be eligible.
SEMA explains:
The SEMA Memorial Scholarship Fund is dedicated to fostering the next generation of automotive aftermarket industry leaders and innovators. Scholarship awards range from $2,000 – $3,000, with $5,000 going to the top student.
For Students attending Ohio Technical College (OTC): a full-year of tuition, valued up to $29,400, will be awarded to one student!
The SEMA Loan Forgiveness Program is dedicated to aiding recent graduates in getting off to a successful start in their automotive aftermarket career. We offer $2,000 awards toward outstanding student loans for individuals who are employed by SEMA member companies.
Of course, one of the scholarships offered through the SEMA Memorial Scholarship is reserved specifically for students pursuing or advancing a career in the auto trim and restyling industry. The scholarship will be offered in memory of Nat Danas – founder of the National Association of Auto Trim Shops and Auto Trim and Restyling News. 
SEMA is taking applications from now until March 1, 2016. See SEMA.org for rules and requirements. For more scholarship opportunities, check out AutomotiveScholarships.com.