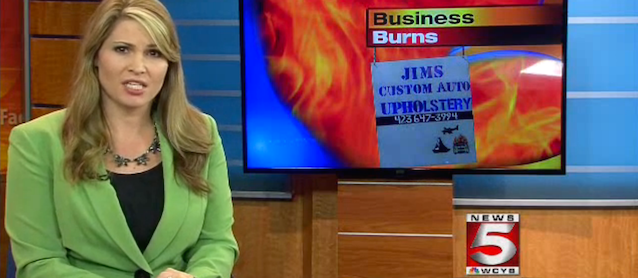 Sad news to report this morning: Jim's Custom Auto Upholstery in Carter County, Tennessee, was destroyed in a fire last week. The blaze reportedly damaged several vehicles and much of the shop's inventory, but fortunately no one was injured.
Multiple crews responded and were able to contain the fire within an hour, said Captain Nathan Ward of the Watauga Fire Department, before adding that part of the shop's roof collapsed.
"We arrived and found heavy fire through the roof of the building and coming out the garage doors," Ward told local news station WCYB. "There were multiple vehicles inside, tires, upholstery fabrics so we'll have to get with the business owner and go over all that."
The building has since been declared unsafe and an investigation into the cause of the fire is underway. Authorities, however, believe it was likely caused by an electrical problem.
Though it's not always possible to prevent fires, remember that auto upholstery shops can take steps to limit their losses — such as storing combustible items properly, ensuring their buildings are up to code, and staying on top of their insurance policy coverage terms and payments.
To learn more about insurance policies, read our articles: "Is Your Auto Upholstery Shop Insured?" and "Understanding Auto Shop Business Insurance."
Also, please join us in wishing the team at Jim's Custom Auto Upholstery a speedy recovery and grand reopening!