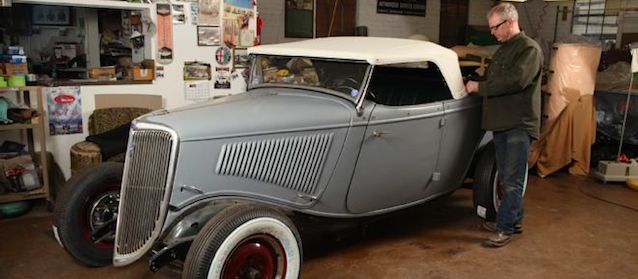 Want to learn how to fabricate an old school roadster top? Then check out Hot Rod Network, which recently followed Paul Reichlin of Cedardale Auto Upholstery as he constructed one from scratch for a 1933-34 Ford.
The article – which features a series of build photos shot at Paul's shop in Mount Vernon, Washington – provides a step-by-step guide on how execute this difficult project.
Nevertheless, Paul makes it look easy. Hot Rod Network explains:
He's a hell of a trimmer; to submit a car for any kind of job means benefitting from four decades of experience, one reason his client base extends well beyond the Northwest. He's also an avid historian, so to submit a car that's intended to represent a bygone era is to benefit from his obsession with old magazines, photos, and survivors. He has a soft spot for history.
Despite being a historian, Paul is not so rigid in his projects that he can't make custom tweaks to please his customers. In fact, he based the roadster's top loosely on a speedster design popular in the 1940s-50s to accommodate the owners height, which is well over 6 feet tall. If Paul had kept the project period-correct, the owner would never be able to fit inside.
The article touches on everything from frame modification to pattern making, cutting, sewing and installing. No doubt, it's a must read for every auto upholsterer.
To read the article, visit: "Making a Roadster Top for 1933-34 Fords." Also, check out The Hog Ring "Design Studio" for a free interior illustration of the 1932 Ford Roadster.