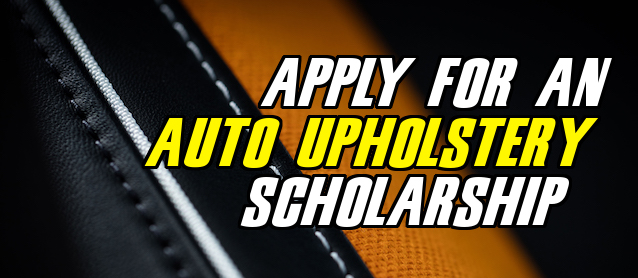 If you're enrolled in an auto upholstery program, like at Wyotech or McPherson College, you might be eligible for either the SEMA Memorial Scholarship or Loan Forgiveness Program.
SEMA explains:
The SEMA Memorial Scholarship Fund is dedicated to fostering the next generation of automotive aftermarket industry leaders and innovators. Scholarship awards range from $2,000 – $3,000, with $5,000 going to the top student.
For Students attending Ohio Technical College (OTC): a full-year of tuition, valued up to $29,400, will be awarded to one student!
The SEMA Loan Forgiveness Program is dedicated to aiding recent graduates in getting off to a successful start in their automotive aftermarket career. We offer $2,000 awards toward outstanding student loans for individuals who are employed by SEMA member companies.
Of course, one of the scholarship awards offered through the SEMA Memorial Scholarship is reserved specifically for students pursuing a career in auto upholstery. The scholarship is offered in memory of Nat Danas – founder of the National Association of Auto Trim Shops and Auto Trim and Restyling News.
This year, Samuel Shelhoss of Clemson University won the Nat Danas Scholarship. He was one of the 61 recipients who received a portion of the $168,000 awarded by the SEMA Memorial Scholarship Fund in 2016.
Since 1984, when the fund was established, SEMA has granted more than $2.1 million to over 1,200 students. How awesome is that?
SEMA is taking applications from now until March 1, 2017. Visit SEMA.org/scholarships for rules and requirements. For more scholarship opportunities, check out AutomotiveScholarships.com.