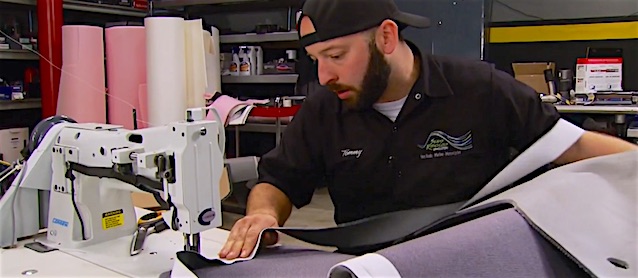 In a recent episode of PowerNation TV's hit show "Truck Tech," Tommy Perkins of Seams Ridiculous Upholstery in Montross, Virginia, transforms the interior of a classic 1955 Ford F100.
Tommy trims two junkyard buckets from a Nissan Altima for the project, and walks viewers through the process of how it's done. He also installs a new carpet. Meanwhile, the show's host wraps the headliner and door panels.
Watch the full episode on PowerNation TV by clicking here!
If Tommy looks familiar, that's because we wrote about him last year, when he was named to SEMA's "35 Under 35" list. It's great to see him continuing to do great things!
To learn more about Seams Ridiculous Upholstery, visit their website. You can also follow them on Facebook, Twitter and Instagram.