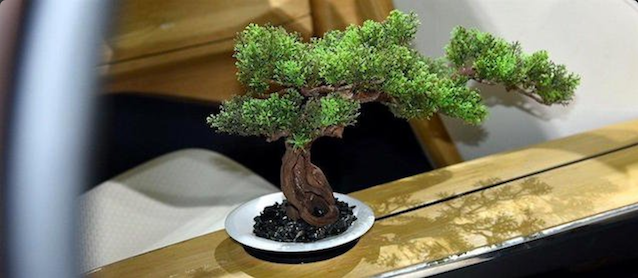 Why? Why? Why are automakers starting to incorporate plants into their interior designs?
In the last two months, Rinspeed unveiled a vehicle with an onboard radish garden, BMW began using living moss for sound insulation, and now GAC Motor has planted a Bonsai tree in a center console.
The Chinese automaker recently debuted its new EnSpirit concept vehicle at the 2017 North American International Auto Show (NAIAS) in Detroit, Michigan. The sporty electric SUV features loads of cool interior features, including gorgeous wood trim that looks to be bamboo.
The vehicle is engineered to be extremely Earth-friendly. And GAC Motor drives that point home with a Bonsai tree planted in the center console. Car News China explains: "What better cleans the air than a tree? Nothing does, so the EnSpirit has one on-board."
We get it: Everyone wants to "go green." But if automakers keep this up, Opel's prank of real grass upholstery may soon become a reality.
Then again, GAC Motor is known for some really bizarre things. Remember when the automaker unveiled its live aquarium center console?