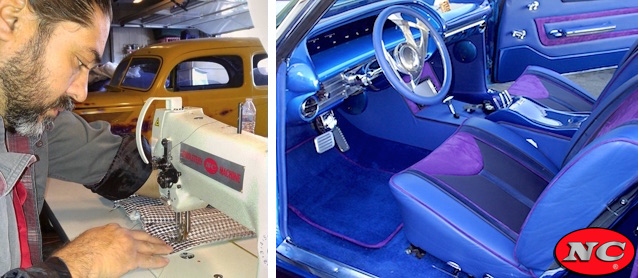 It's been a tough couple months for Luis Valadez. Days before the New Year, his Las Vegas upholstery shop, Wizard's Custom Interiors, burned to the ground — destroying most of his fabrics, equipment and more than a dozen vehicles. Worse still, Luis' insurance policy only covered the building, not the business.
Out of work and facing certain financial ruin, Luis wondered how he was going to rebuild and continue to provide for his wife and five children. That's when he says a miracle happened.
Mal Maher of NC Carpet Binding & Equipment read about the fire on The Hog Ring, and was so moved by the story that he picked up the phone, called Luis and told him to expect a free NC6 single needle walking foot machine, complete with Servo Motor and stand, to arrive in the mail.
Luis, who didn't know Mal, immediately thought he was being pranked. Choking back tears, he recounted the story:
You know what? I could not even believe it. I thought it was someone making a joke or something. When he called me and said, "We're going to help you out and send you a sewing machine," I didn't believe him.
I was talking to my wife and I go "Somebody is trying to play a joke on us." Then Mal told me he's going to have his guys send me the machine tomorrow. I said, "Yeah okay, that's fine." Because you know, I still didn't believe it.
Then one day, about a week after, papers show up for the sewing machine – they gave me a tracking number and everything. So I said, "Okay…" I checked the tracking number and it was set for delivery on Monday. I figured we'll wait until Monday and see.
On Monday I was cleaning out my shop when a UPS truck showed up and the guy said, "Hey I got a sewing machine for you."
I told my wife, "Hey, they're real! They sent me the sewing machine!"
I was crying. I still feel like it didn't happen. I still feel that, you know?
The emotion… this definitely has to be God.
The NC6 walking foot sewing machine that Mal sent Luis is one of NC Carpet Binding & Equipment's most popular models. It's an industrial-strength machine designed for the auto, marine and aircraft industries, and retails for $1,850. It's also the same machine that Dan Miller Auto Upholstery used to trim the VLF Force 1.
Needless to say, Luis was impressed: "When I saw the machine, I started crying. I started working with it, and it's amazing!"
In fact, he says it's better than his old Consew model.
With his new machine and a few salvaged tools in hand, Luis recently reopened Wizard's Custom Interiors in a garage next door to his old one. Business is slow, but he's hopeful that he'll be able to rebuild his once thriving shop.
"Whatever I can do, I do," he said. "It'll be okay. We're going to be better, that's for sure."
As for the unexpected help, Luis says he's extremely thankful and will definitely pay it forward.
"I want to thank Mal for what he did for my family. I'm their only supporter and now I can work," he said. "I will definitely do the same thing for anyone else."
"There are good people. I thank God for everything that I have and everyone that I love."
Find out more: To follow Wizard's Custom Interiors as they rebuild, visit WizardsCustom.com. To learn more about the NC6 sewing machine or NC Carpet Binding & Equipment's other fantastic products, visit NCCarpetMobile.com.