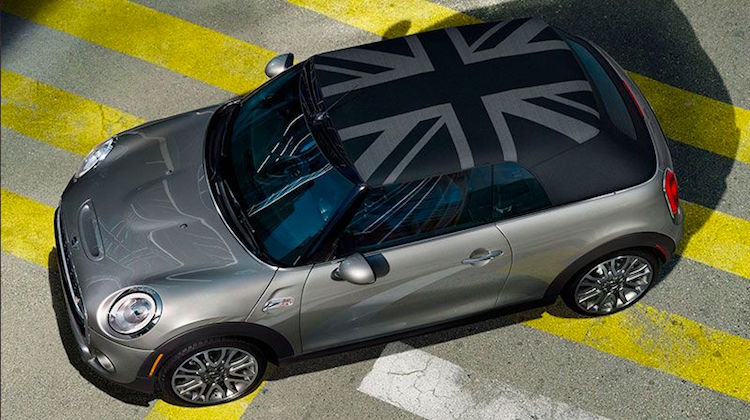 Haartz Corporation's jacquard weaving technology is changing the way automakers and car buyers view convertible tops.
The technology, which allows for up to three distinct colors of yarn to be combined into an infinite number of weave patterns and color combinations, has transformed the convertible top into a blank canvas on which to express one's personal style and bolster the overall aesthetics of a car.
In part one of our two-part interview series with Matt Williams, director of business development for Haartz, we discussed the technical application of jacquard weaving technology.
Part two focuses on how automakers are adopting this revolutionary technology.
1. Since its introduction six years ago, jacquard weaving technology has only been adopted by a handful of automakers – including Chevrolet, Mini and Citroën. Will we see more automakers make use of the technology in the near future?
There are more designs currently in the works and we expect the technology to provide a niche design option for automakers for years to come.
2. When we first learned of the technology, we expected that luxury automakers – like Rolls-Royce and Aston Martin – would be early adopters. However, affordable makes and models gravitated to the technology first. Why do you think that is?
Identifying a design that complements the roof and the style and character of the vehicles is critical and some brands have been able to accomplish that more quickly than others.
3. In the past, automakers introduced designer tops with limited success. We've see this in the 1960s with General Motors' "fashion top" concept and in the 1970s with Mopar's so-called "mod top." What has changed – either in the industry or culture – that makes Haartz feel drivers are now ready to accept designer tops?
The current level of vehicle customization available to consumers is unprecedented. We feel this opportunity shouldn't be limited to the body and interior of vehicles — it should extend to the roof as well.
4. Realistically, the market for people who want convertible tops with big, bold designs like the Union Jack has to be small. We imagine most car owners would want something more subtle. What types of colors and patterns is Haartz experimenting with to increase the likelihood of mass adoption?
This is where we have implemented Twillfast/Sonnenland HT and Panama designs with more subtle combinations of weave, color, luster to achieve unique appearance effects. A Panama design is a basket-weave pattern that we created with a combination of acrylic and polyester yarns.
5. Haartz sells its fabric to aftermarket manufacturers of convertible tops and select distributors. Does this include fabric made using jacquard weaving technology? Or is it only currently available to automakers and their supply chains?
We expect fabric using the jacquard weave technology to remain an OEM-specific solution for the foreseeable future. There are a number of nuances in dealing with the material, including handling the weight of the material on an OEM-folding roof structure and orienting the image in the right position.
6. To repair a Mini's Union Jack convertible top, the owner will have to take the car to a Mini dealership. What happens when the fabric is discontinued for that limited-edition model?
As is the case with all companies that supply parts for new vehicles, Haartz will continue to offer replacement parts to the OEMs long after the production of a specific model has ended.
7. Can you envision a world where aftermarket manufacturers of convertible tops – like Electron Top or Kee Auto Top – have access to the same technology and are able to manufacture truly custom convertible tops with unique color and design combinations?
This technology is available to any OEM and what comes to the market will all depend on their willingness to create their own unique designs. The sky is the limit.
8. We understand that most of the work you do with automakers is kept under wraps until its ready to be revealed. But is there anything you can tell us about what's in store for jacquard weaving technology?
We can't reveal much, but models that are currently using the technology could be seeing special editions with unique designs in the future.
To learn more about Haartz Corporation and its quality topping fabrics, visit Haartz.com.