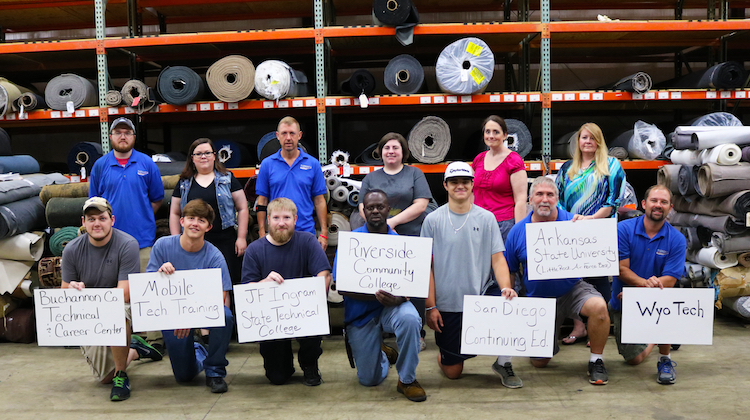 Albright's Supply just made a huge investment in the future of our industry by donating more than $40,000 worth of materials and supplies to seven U.S. technical schools that teach upholstery.
The seven technical schools include: Buchanon County Technical & Career Center, Mobile Technical Training, JF Ingram State Technical College, Riverside Community College, San Diego Continuing Education, Arkansas State University and WyoTech.
These schools provide upholstery classes to students of all ages, insuring the continuation of our craft for years to come. You'll also find many of the students participating in our Auto Upholstery Forum, where they can ask pros questions and learn from the best.
"We've been experiencing tremendous growth the past few years and we wanted to take this opportunity to reach out to our upholstery community," said owner Chris Albright. "This industry has given so much to us, we decided it was time to give a little something back."
"We are grateful for this opportunity to reach out to future upholsterers and foster a bond that we hope will last a lifetime," he added. "We look forward to being here to help and support this industry, this community, for many years to come."
Family owned and operated since 1947, Albright's Supply specializes in automotive and marine trim. In fact, they have one of the largest inventories in the United States and a network that extends throughout the country.
Unlike a lot of suppliers, Albright's Supply is rooted in our craft. In fact, Chris Albright is a second-generation trimmer who grew up cutting, sewing and installing seat covers just like us.
Through years of hard work and dedication to the industry, Albright's Supply has developed a reputation for providing outstanding value and superior customer service to trim shops.
Set up a business account today by calling: (662) 287-1451. You can even browse their products and shop online at AlbrightsSupply.com. Follow them on Twitter, Facebook and Instagram.