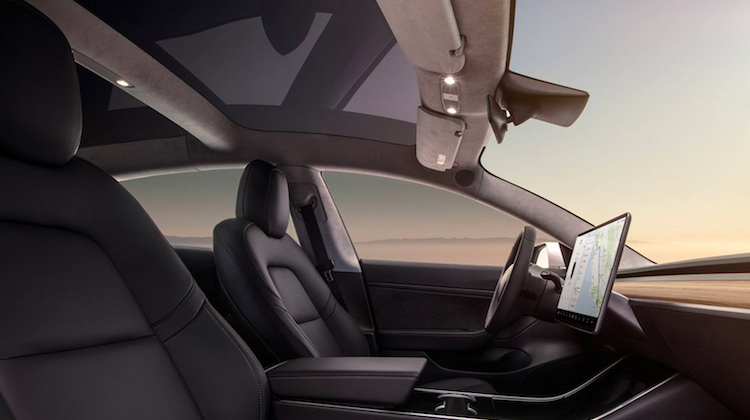 Tesla owners are disappointed with the new Tesla 3's headliner, and are accusing the automaker of pulling an old fashioned bait-and-switch.
Drivers who've recently taken delivery of the electric car say the premium trim, which costs $5,000 more than the $35,000 base model, features a weaved cloth headliner — not the Alcantara one that appears to be shown in the automaker's advertising.
Tesla never explicitly said the Model 3's headliner would be covered in Alcantara. However, the company's website says the car features "premium heated seating and cabin materials throughout." What's more, promotional photos of the car's interior appear to show its headliner, B-pillers, visors and even door accents trimmed in a suede-like fabric.
Following an outcry on social media, the automaker released a statement, but did not address the issue directly. Instead, it said "all Model 3 vehicles are being made with the same premium textile headliner" featured in the Model S and Model X, and that was always the plan at "this stage of production."
Not surprisingly, owners are pissed. Some are posting negative reviews online, while others are demanding an apology and $5,000 refund. These owners say they were mislead into believing their vehicles would be trimmed in Alcantara.
Unfortunately for Tesla owners, it doesn't appear that the automaker will resolve the issue any time soon.
However, enterprising auto upholstery shops would be wise to stock up on Alcantara from Hydes Leather and start marketing their services to Tesla owners ASAP — as many appear to really want Alcantara trim.