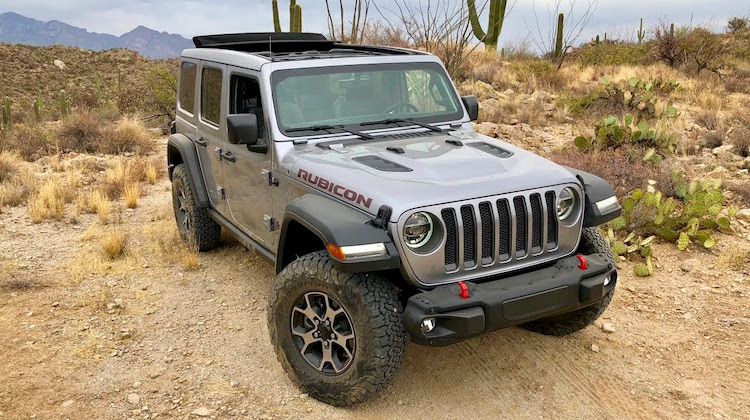 Auto enthusiasts from all over the world are flying to Detroit this week for the North American International Auto Show (NAIAS). If you're one of them, be sure to check out the 2018 Jeep Wrangler, which features a power-retractable roof made from Haartz topping.
Since its introduction in the 1980s, Jeep has hardly changed its flagship SUV. In fact, this latest redesign is only the model's fourth generation. That's because Jeep only makes changes to the Wrangler that are tried-and-tested. It is, after all, a go-anywhere, do-anything monster of a machine.
So what improvements did Jeep make to the all-new Wrangler? It added a turbocharged four-cylinder engine option, diesel and hybrid-electric powertrain options, a better turning radius, stronger crawl ratio, advanced safety features, new interior electronics, sleeker body lines and more.
However, our favorite feature is the new Sky One-Touch Power Top.
The softtop, which operates on a track system and retracts the entire length of the Wrangler's roof, is made from Haartz's Twillfast RPC fabric and available in black or beige.
Twillfast RPC is an acoustically enhanced 3-ply topping with acrylic twill weave facing, rubber inner-layer and polyester dobby backing. It provides superior acoustics, insulation and fit/finish properties that help cancel out road noise without the need for additional padding.
The topping is designed to withstand the rigorous flex and fold requirements of the Wrangler's roof. It's also waterproof, UV resistant and easy to clean.
Haartz is excited for Jeep lovers to see and test the new top, which has already garnered heaps of praise from automotive critics.
"As NAIAS is the premier North American event for new vehicle concepts and production models, Haartz is always excited to see new products such as the Sky One-Touch power top on the 2018 Jeep Wrangler Unlimited, which uses our Twillfast RPC material," said Matt Williams, director of business development for The Haartz Corporation. "FCA's innovative approach to open-air driving on this iconic model will surely be a hit with consumers."
Of course, drivers can still opt for the Wrangler's traditional wrap-around softtop, which is made from Haartz Single Texture PVC fabrics (available in black) and Haartz Twillfast RPC fabrics (available in black and a special edition beige color).
Like its counterpart, Single Texture PVC also provides superior acoustics and insulation, and can withstand even the roughest weather conditions.
Swing by Jeep's booth at NAIAS to see both tops and tell us which you like best.
While at the show, be sure to check out all the other convertible vehicles donning Haartz topping — including the Audi R8, Mercedes-Benz AMG E53 Cabriolet, Mercedes-Benz G-Wagen, BMW i8 Roadster and Rolls-Royce Dawn.
"We're dedicated to the customization and quality of softtop materials for all open-air vehicles," Williams said. "You can find many Haartz softtop materials featured at NAIAS demonstrating that dedication."
To learn more about Haartz, visit Haartz.com. You can also follow them on Facebook, Twitter and Instagram.