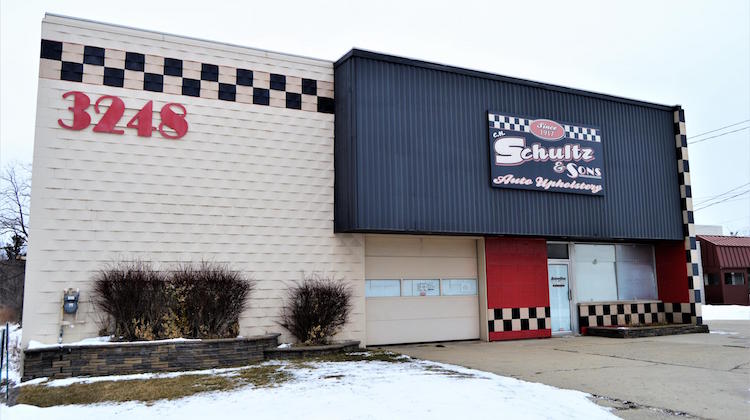 At 101 years old, C. H. Schultz & Sons, Inc. may be the oldest auto upholstery business in the U.S.
Deborah Schultz-Pawloski, the shop's third-generation owner, says her grandfather Clyde H. Schultz founded the business in 1917 in Flint, Michigan. At the time, he was working for Buick and running the shop as a side hustle out of his backyard.
Given the period, Clyde upholstered both horse-drawn carriages and motor cars.
By 1923, Clyde left Buick to run the upholstery shop full-time. Two of his sons, Melvin D. and Clyde D. Jr., took over the shop in 1957. And in 1982, Clyde Jr. became the sole proprietor.
In 1987, the auto upholstery shop incorporated, ushering in a third generation.
Clyde Jr. retired as president in 1997, selling to his oldest daughter Deborah, who continues to run the shop to this day in Flint.
Deborah, who was recently profiled by Michigan Radio, told the station that she's been involved in the craft all her life, and still very much enjoys it.
"You know, I've done this for a really long time so it's like you see some of the most fabulous cars that are original," she says. "The GTO was gorgeous inside, the last one was. And, you just … pull things from everything that you've seen and put it all together and you just throw ideas at people and they end up making a decision of what they want … That's the best part."
During busy periods, Deborah spends more of her time running the business than actually trimming cars, though that's her first love.
"I do like my hands on," she says. "I really do. I thoroughly enjoy sewing."
Of course, today C. H. Schultz & Sons, Inc. doesn't get many horse-drawn carriages. But they do get boats, ATVs and motorcycles. "We do everything except for household furniture," said Deborah. "That's the only thing we don't do."
"The most entertaining part is: you never do the same thing every day. Ever. Even if it's the same seat cover you might be putting on, there's always something different on the other side. So, it's never boring," she told the station.
As for C. H. Schultz & Sons, Inc. being the oldest auto upholstery shop in the U.S., Deborah doesn't make that claim. However, we're assuming it is because we've never heard of another shop older in age.
If you have, please let us know — as we'd love to profile them on The Hog Ring.