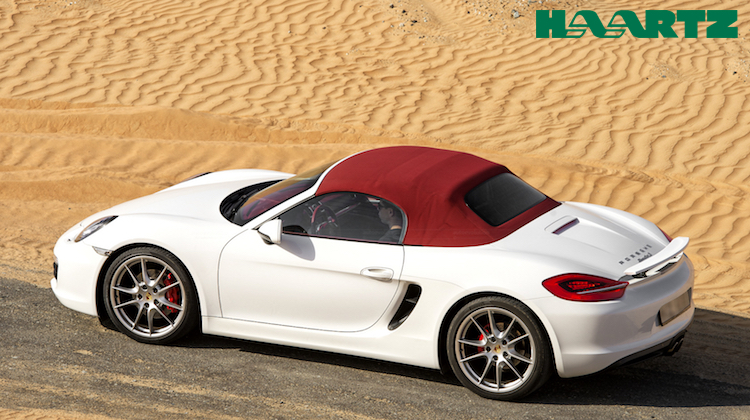 With convertible top season in full swing, we reached out to Eric Haartz of The Haartz Corporation to shoot the breeze about softtops.
After all, who knows more about the subject than the CEO of the industry's leading manufacturer of convertible softtop fabric?
Of course, we've spoken to Haartz reps before, but those conversations were about products. Now that we had the ear of the head honcho, we decided to do things a bit differently and talk convertible culture and its impact on the changing market.
The conversation was both fascinating and enlightening. Eric shared his thoughts on what makes top-down cruising so alluring, as well as the failure of retractable hardtops. He even talked about self-driving cars, and how they could impact convertible top design.
Convertibles have become ingrained in American pop culture. What is it about topless cars that so many people find attractive?
For those in advertising, media and entertainment, nothing visually captures the idea of vehicular "fun in the sun" like a convertible or open SUV, it's iconic. Plus, the whole collector-car hobby loves them, and there's an auction adage that "when the top goes down, the price goes up."
Something deep in the psychology of motoring and traditional American sense of freedom is well-captured by the convertible car. Personally, I find more sense of fun during a top-down drive than in closed-body vehicles I've driven (sedans, crossovers, pickup-trucks). Along a top-down journey, I also have more of a connection with the places through which I drive. Some of that connection is positive, some is challenging, but it's more engagement with that environment than I would have inside a vehicular bubble with my playlist running.
The auto industry is prone to fads, with body styles and other elements changing every year. How has the convertible softtop managed to stay en vogue for so long?
Not to diminish the manufacturing realities of automobile hard trim, those body and hard trim elements are three-dimensional, but static. Within economic reason, they can (and should) change with time.
A convertible top is dynamic, and even minor changes in its configuration will have huge impacts on the folding and stowage, as well as the aerodynamics and economics of the top.
In the Original Equipment Manufacturers (OEMs) world, risk is a big deal. The OEMs and suppliers of convertible top systems are obligated to be very cautious about trading proven functionality for the sake of styling fads.
On the other side of the matter, most convertibles are not huge production volumes, so there's not a lot of incentive for the car makers and their convertible top systems suppliers to incur high research and development costs in convertible top systems for low volume production.
Having said all of that, we do see interesting opportunities in the styling and performance capabilities of softtop materials. Stay tuned for future news on this side of the matter!
Today the convertible softtop is way more popular than the retractable hard top. Why do you think that is?
I'm biased, but look at it from an OEM's point of view:
• Tooling cost and development for a folding hard-top system is generally more expensive than for a softtop system. That higher cost is spread over fewer vehicles in the case of convertibles, which puts pressure on the target selling price point of the vehicle.
• We've only seen limited feedback about auto collision claims data, but that limited amount suggests that folding hard-top systems incurred higher repair claims costs or higher scrappage (cars deemed to be totaled) than comparable convertible models with softtop systems.
• Folding hard-top systems tend to weigh more than softtops, which runs against the prevailing car engineering mindset to reduce vehicle weight (and the accompanying energy use to propel the car).
• Folding hard-top systems also tend to consume much more of the trunk volume when the roof is open. This limits the functionality of the vehicle for consumers.
• With the roof up, folding hard-tops look just like any other vehicle on the road. Going back to my opening comment, nothing captures the idea of vehicular "fun in the sun" like a convertible.
For the longest time, convertibles were regarded as highly impractical or only aspirational. These days, they're ubiquitous. What do you think caused the shift in perception and got more people buying drop tops?
The general public may still regard convertibles this way, but those who remember the drafty, American convertibles from decades ago are thinning out. Kudos to Audi, BMW and Mercedes-Benz for advancing convertible technology in the tail end of the 20th century. Those three OEMs really improved the year-round functionality of convertibles in temperate climates.
Interestingly, the surge in folding hard-top popularity 10 to 15 years ago brought more people out of sedans than they took from softtop buyers. In a different market niche, Jeep has done a great job of keeping the fundamental character of the Wrangler. That one's an icon of open-air motoring!
As for convertibles being ubiquitous today, I sure wish they were more so! I'd love to see more convertibles, and not just because it helps business, but I'm also speaking as a convertible aficionado.
A current challenge to the convertible market is that most models derive from a strong sedan counterpart. As long as gasoline prices stay around their current level, North Americans are favoring SUVs and pickups. The OEMs are putting so much development effort into electric propulsion and autonomous vehicles (I like to call them autonomobiles) that they just aren't devoting effort into successor convertibles. Those dynamics are not universal, nor will they last indefinitely, but that's how the development side looks for convertibles in 2018.
There are less new convertible models manufactured today than there were 30 years ago. However, the ones that are available remain hot sellers. What do you attribute that to?
At a simplistic level, the most popular convertibles today might be cases of survival of the fittest among convertible car models.
The Chrysler Sebring had a good run, but that's finished. Ford's Mustang probably gets nice sales support from rental car fleets in the sun belt, where a "mainstream" convertible is wanted, and the Mustang is the most viable, current option. The responses to the prior questions address the vehicle development dynamics, which currently are not supportive of convertibles.
We're probably in a convertible "lull," and the performance of the general economy will affect what happens with these models in the next several years. Out of all "open-air" vehicles, the Jeep Wrangler is still hot, and will likely remain so. It simply offers the utmost versatility and functionality to the consumer with its combination of SUV ride, off-road performance, plenty of passenger and cargo space, and open-air driving. What more could you want?!
We're in a period where automakers are redefining the entire motoring experience. Self-driving cars, for example, are basically living rooms on wheels. Everything from the seats to the dashboard are changing. Do you predict the convertible top will change too?
Motoring society and the automakers are envisioning the future of automobiles. It seems like a brainstorming phase, but new, mainstream ideas and resulting redefinition won't happen for a while.
Whatever happens with sedans and crossovers will be the basis on which future convertibles emerge. If we're still constrained to sitting in autonomous cars, top systems will likely be similar to what we know, with potential for both folding hard-top and softtop concepts. Suppose that we can stand up in those future cars? That could drive a change in top architecture.
I don't know what to tell you about the hot-tub car: your guess is as good as mine!
To learn more about The Haartz Corporation, visit Haartz.com. You can also follow them on Twitter, Facebook and Instagram.