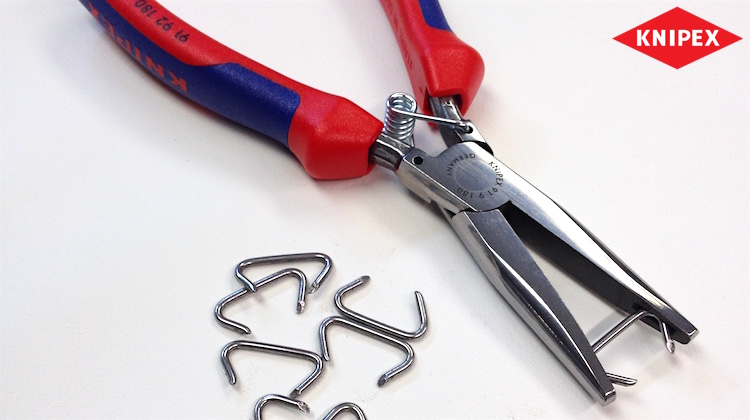 Successful auto trimmers know that it pays to invest in high-quality tools, especially those we use day in and day out. One such tool is hog ring pliers, which are vital to nearly all seat cover installs.
We recently had the opportunity to test a pair of Knipex's unique needle-nose hog ring pliers, which we spotted at the SEMA Show. Check out our review of the hand tool and learn how you can win a pair.
Who is Knipex?
Knipex is a manufacturer of high-grade pliers, cutters and other hand tools for general use and specialized trades. It's a German company that's been in business since 1882, and competes in the same class as SnapOn and Mac Tools.
What's so special about their hog ring pliers?
Knipex's hog ring pliers feature a unique needle-nose design that's long reach and slim tip helps trimmers get into hard-to-reach places and tight spots.
The spring-loaded pliers are just over 7 inches in length and 7 ounces in weight; the perfect size and balance. They're constructed of forged and oil-hardened German steel with a durable handle that offers plenty of grip and comfort.
How well do their hog ring pliers work?
Very well, actually. The pliers' joint has really smooth movement and the deep grooves in the nose can accommodate nearly any size hog ring.
I'm particularly impressed with how well its spring keeps tension in the closed position. I've had bad experiences with other spring-loaded hog ring pliers, where the springs either broke or made it difficult to open and close the tool with one hand.
The Knipex spring is just right. In fact, it applies the perfect amount of tension to keep the hog ring in place without making it difficult to operate. Once the pliers are loaded with a ring, you can bump, bang or drop it and it still won't let the ring go.
My only qualm with the pliers is that it doesn't crimp hog rings quite as tight as my other pliers do. However, the difference is minor.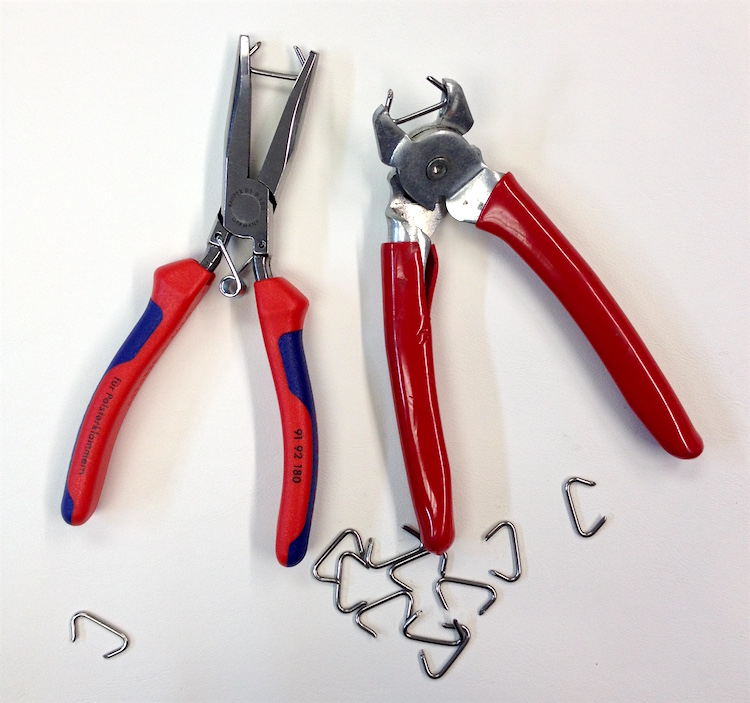 Anything else you'd like to add?
Hog ring pliers come in a variety of shapes and designs, and each serves its own purpose. Knipex's needle-nose pliers aren't the only pair you should own, but will certainly make a great addition to your toolbox. They may even become your favorite pair.
I met the good folks of Knipex at the SEMA Show and was impressed by their line of high-quality tools. Although the hog ring pliers are the only tool they manufacture specifically for the craft of auto upholstery, trimmers should also check out their Diagonal Super Cutters. I tried one at the show that cut through a large nail like it was butter.
Where Can I buy Knipex's hog ring pliers?
Knipex's needle-nose hog ring pliers (model no. 91 92 180) are sold on numerous online stores, including Amazon. They retail for around $70, which sounds steep, but is actually on par with other high-end specialty tool manufacturers. Best of all, it's a price that you only pay once, as the pliers are designed to last a lifetime.
To learn more about Knipex tools and see their full range of products, visit Knipex-Tools.com.
Did you say I can win a pair?
Yup! Today only, we're giving away three pairs on
Instagram
! We want you to get creative with your hog rings. Create hog ring art, make a necklace, bracelet, pierce your nose, write a message with hog rings — whatever you like.
The crazier the better! Share a photo and use the hashtag 
#TheHogRing
. We'll pick three winners to award a free pair of Knipex needle-nose hog ring pliers!