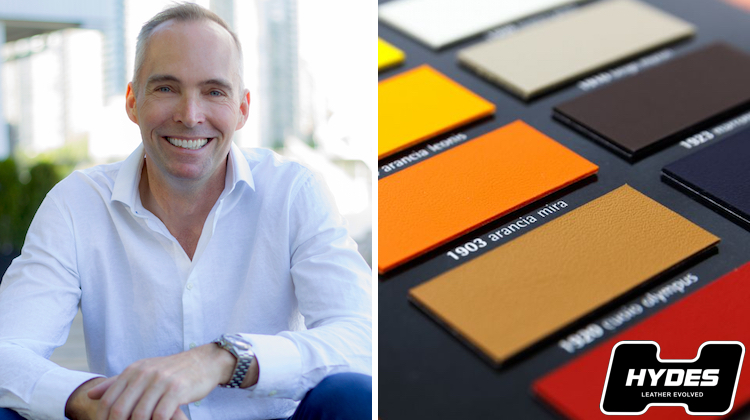 We're excited to introduce a new article series: "Ask Aaron."
Aaron Laithwaite, founder and CEO of Hydes Leather, has graciously volunteered to answer trimmers' questions about leather.
He's the perfect man for the job — as he runs North America's leading supplier of premium OEM leather hides. His company also offers a host of premium services, including custom perforation, embroidery, weaving, skiving and more.
Every month, we'll take a question from a member of The Hog Ring community and pose it to Aaron, who will respond with his expert opinion.
The goal of this article series is to educate and inform auto trimmers on any and all issues regarding automotive-grade leather. After all, the more we know about leather, the better we'll become at our craft.
We'll launch the article series on Thursday. But before then, let's get to know Aaron.
How did you become involved in the leather industry?
I got into leather by chance. When I was 27, I formed a business to import furniture from Southeast Asia. I scraped together some money to get to a trade show in Kuala Lumpur, Malaysia. Without much planning and a fair bit of blind confidence, my business partner and I scoured the halls trying to figure out what we could afford, and what would be the best seller.
We were early to the game of imports from that region. We chose leather, mostly because we thought it would be easier to sell 30 sofa sets than 300 Dining table sets.
From there, the company evolved to the point that I was designing most of our range, and also sourcing all the leather from Italy. That's basically how it began for me.
Why did you transition from furniture to automotive leather?
When my friends began asking me for some great leather for their hot rods, I figured there must be a hole in the market. I was already friends with tannery owners from Italy who supply leather to Ferrari, Maserati, Lamborghini and others. That seemed like a pretty healthy lineup to offer to the car world.
I chose to specialize in auto leather because I could see the other players in the market just offering up furniture leather for use in autos. There are a lot of subtle differences between auto and furniture leather, and I figured I could help fill the void in the market.
So, our focus is authentic OEM leathers rather than reproductions or furniture leathers.
Are you also an automotive enthusiast?
I've been car crazy for a long time. My first car was a real piece of S&*%. It was a 1975 Ford LTD that my dad bought for my brother and me for $500 (mostly to keep us out of his shiny cars). Didn't take long to figure out how to do great burnouts in the school parking lot. What it lacked in style, it made up in seating for 8.
In my 20's I got a free 1974 MGB from a friend and fully stripped and restored it. Drove it until I realized British convertibles in Vancouver rainy weather wasn't the best fit for me.
I've always been a Porsche guy. I'm on my 5th one now. It's not a princess. It's a 997 4s that I drive the wheels off. It has a bike rack for summer and a ski box for winter. It gets worked hard.
Oh, and I also just traded for a 1974 Honda CB550 Cafe Racer that I'm looking forward to riding this summer.
You undoubtedly know many of the best trimmers. Who upholsters your cars?
I'm like the plumber with the leaky faucet. I don't currently have a project on the go. But have something in the works that may show at SEMA 2019. We'll see.
What drives your passion for the leather industry?
I love everything about my business. It can be a lot of work, but I'm proud to have the knowledge that I have acquired over the years. I appreciate when people ask me to share what I know.
I've developed a lot of great friendships in this business. I love getting up every day to help my clients make the most incredible interiors in the industry. I am truly blessed to be doing what I do.
---
To learn more about Hydes Leather, visit their website at HydesLeather.com. You can also follow them on Instagram and Facebook.