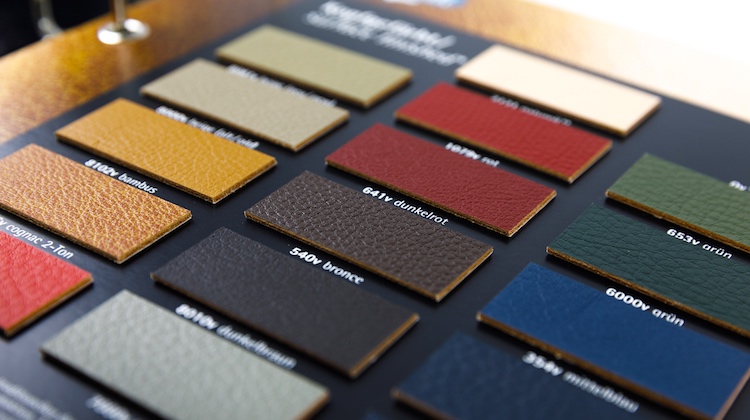 Every award-winning interior build starts with a quality leather hide. With so many products on the market, it can be difficult to separate the bad from the good and the very best. Fortunately, Hydes Leather makes it easier.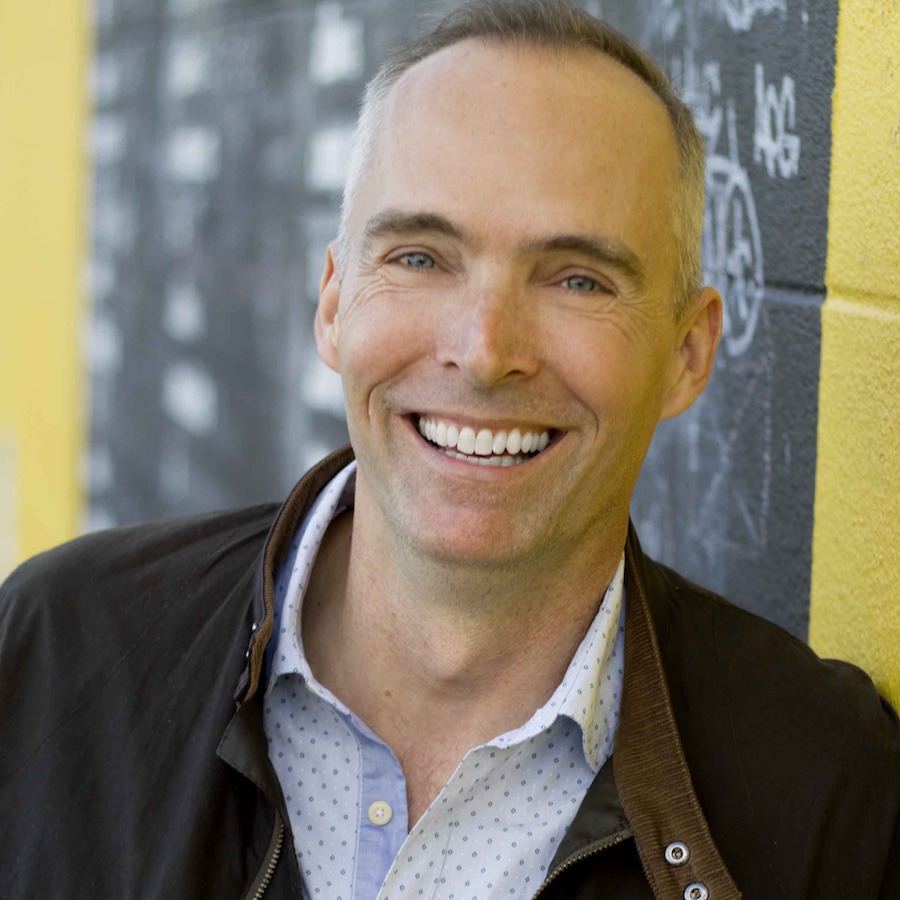 Hydes Leather is North America's leading supplier of premium OEM leather hides, servicing auto upholstery shops and restorers. They source their hides from the same European tanneries that provide leather to such luxury automakers as Bentley, Lamborghini, Maserati and Porsche.
What's more, Hydes Leather is a distributor of Alcantara's automotive collection. They also offer premium services — including custom perforation, embroidery, laser etching, weaving and skiving.
Not surprisingly, many elite auto upholstery shops rely on Hydes Leather for their materials. Interiors trimmed with their products have won awards at Pebble Beach, Goodguys events, the Detroit Autorama, SEMA and other shows.
Interested in learning more about Hydes Leather, we sat down with founder and CEO Aaron Laithwaite to talk about leather and what makes his business so unique.
Why does Hydes Leather focus exclusively on automotive leather?
When I was 27, I formed a business to import leather furniture from Southeast Asia. As the company evolved, I began designing most of our range and sourcing all our leather from Italy.
When my friends began asking me for some great leather for their hot rods, I figured there must be a hole in the market. I was already friends with tannery owners from Italy who supply leather to Ferrari, Maserati, Lamborghini and others. I figured that was a pretty healthy lineup to offer to the car world.
I chose to specialize in auto leather because I could see the other players in the market just offering up furniture leather for use in autos. There are a lot of subtle differences between auto and furniture leather, and I figured I could help fill the void in the market.
So, our focus is authentic OEM leathers rather than reproductions or furniture leathers.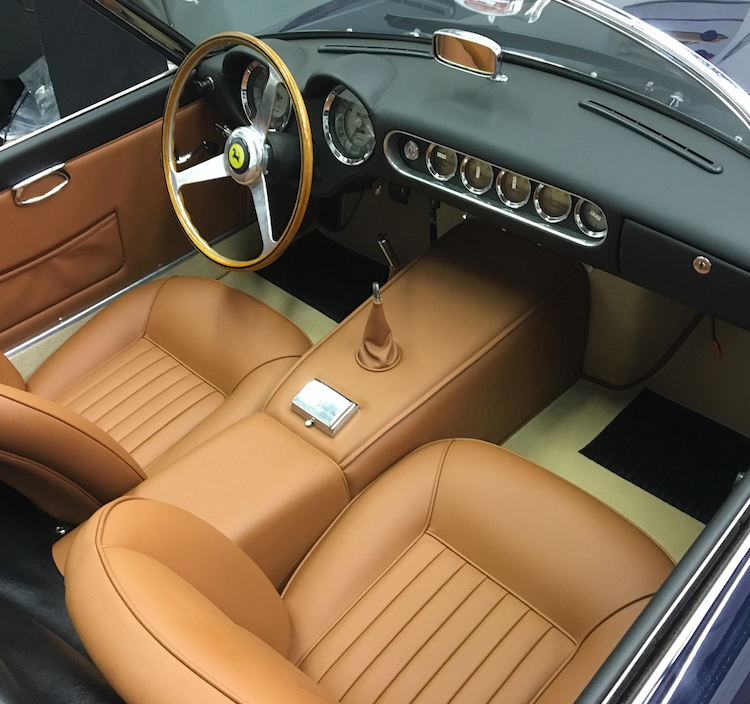 What sets Hydes Leather apart from its competitors?
I'd say our focus is on doing it right. I always stand behind everything I supply. Sometimes things can go sideways, but I believe it's all about how you handle the challenge.
I want our clients to always remember me as a friend first. When people ask me what I do for work, I tell them I go to car shows and hang out with my friends mostly. Of course, there's a lot more to it than that, but that's the thing that's always at top of mind for me.
Why should trimmers order leather from Hydes and not a general supplier?
We have the real thing. We don't do replica on cheaper raw material. If you want your car to look the best it can possibly look (which I would hope most would do), then you need to begin with the best material.
When you think of the cost to build most of these cars, the leather is a very small piece, but it's also the part of the car you'll touch more than any other.
A great customer summed it up recently: "Material cost is immaterial." I thought that was perfect.
Where does Hydes source its leather?
Our leathers are all of European origin. We don't use any South American or Asian leathers, as we are simply following the sourcing of the big OEM manufacturers.
How does Hydes' close relationship with tanneries impact quality?
We work with some amazing tanneries in Europe. They know us well; they know our clients are demanding too. We're always inspecting and brainstorming for ways to improve what we do.
One cool thing is that we can pull some of the rarest, most sought-after leathers right from production. It's a privilege to be able to provide stuff that others can't access.
What checks do you institute to ensure your leather is ethically produced?
As I mentioned, our leather is all from Europe. The EU has some of the strictest animal welfare rules on the planet. We know we're in good shape with them.
Aside from leather, Hydes also sells Alcantara, synthetic leather and plaid fabrics. Can you tell us about these other products and why you sell them?
I'll answer this one in order…
Alcantara's popularity has skyrocketed lately. When we were granted the distribution rights for North America from Hans Reinke, that included the distribution of Alcantara. Alcantara then made some changes to the distributor network which has left us as the only authorized distributor of the Automotive collection in North America.
Our synthetic leather (vinyl) collection is one that not everyone knows about, but we have more than 400 colors from 23 collections. Some for OEM, but most are aftermarket.
We also have many options for vintage leathers for classic Ferrari, Porsche, VW, BMW, etc.
Vintage fabrics, vinyls and carpets are things I find along the way to round out our offering. I like to think I'm a pretty resourceful guy and I always like a challenge, so finding something that can't be found is a thrill. I source stuff all the time. And if there's demand, I'll find it and add it to the line. I have fun playing Indiana Jones for stuff.
I believe that being able to allow our customers a one-stop shop is more efficient for them, so I'm happy to have it in the program. So, even if a client doesn't see it on our website, we likely know how to acquire it, so they should ask.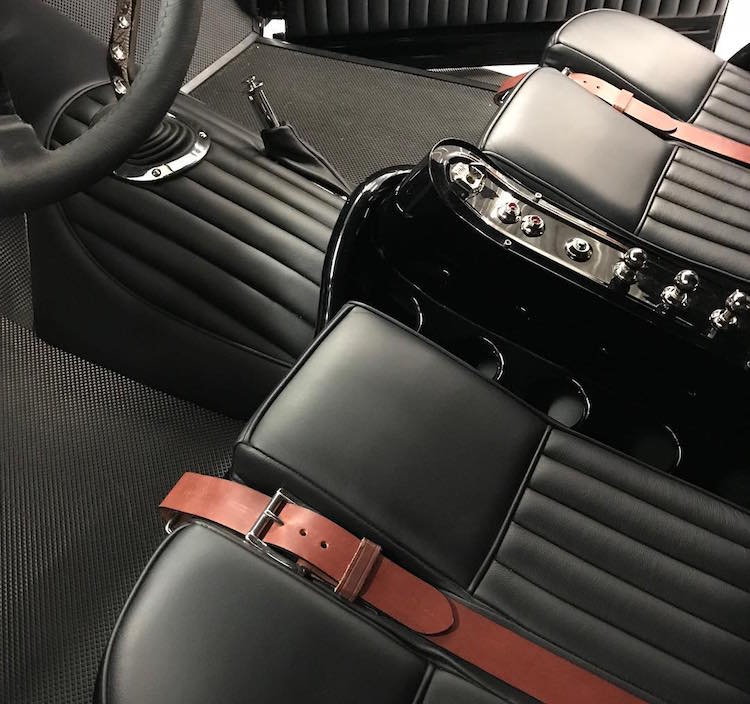 Hydes provides a wide range of services – from custom embossing to perforation and even weaving. Are these done in-house by Hydes?
We don't do any of this in house; we outsource everything to the professionals in those fields.
We work with the best of the best. We work with weaving companies upstream from an Italian luxury handbag producer to offer some incredible weaving.
For perforations, we have many more standard options than any of our competitors.
Or, if you like, we can even CNC perforate your your own pattern into leather using a very specialized machine in Germany that's used for prototyping for OEMs. The possibilities are limitless. We try to stay at the front edge.
We've noticed that a lot of luxury show cars are trimmed in Hydes leather. Does your clientele tend to be high-end?
Our clients definitely seem to build a high-end look. But our leathers are actually very competitively priced considering the quality you're receiving.
I guess the short answer is that we cover the mid- to upper-end of the leather aftermarket for cars.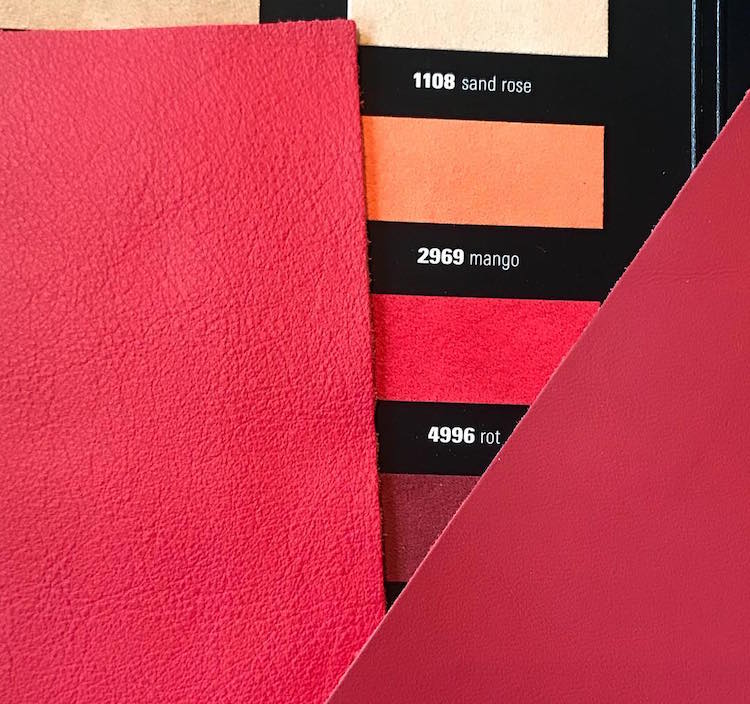 Does an upholstery shop have to register as a "dealer" on your website to order?
Yes, we are very strict about who has access to our online shop.
A potential dealer (upholstery shop) must fill in our dealer application. We will then verify through a number ways, that they are a company we would like to be aligned with. Then we approve their account, which allows them into the backend of our website where pricing is shown, specials and discounted items are available.
We don't sell our products to the retail market.
How can an upholstery shop acquire your catalogs?
Our catalogs are quite extensive. There are more than 1,000 colors of leather in the Master Catalog.
It's shipped out on a Deposit system. $220 gets you the Master Catalog. When your orders with us reach $2,000, we credit the catalog back to your account. We're a small company, and our catalogs cost us much more than $220 to produce, so I think this is just a good measure of whether a potential customer is serious about working with us.
---
To learn more about Hydes Leather, visit their website at HydesLeather.com. You can also follow them on Instagram, Facebook and Twitter.