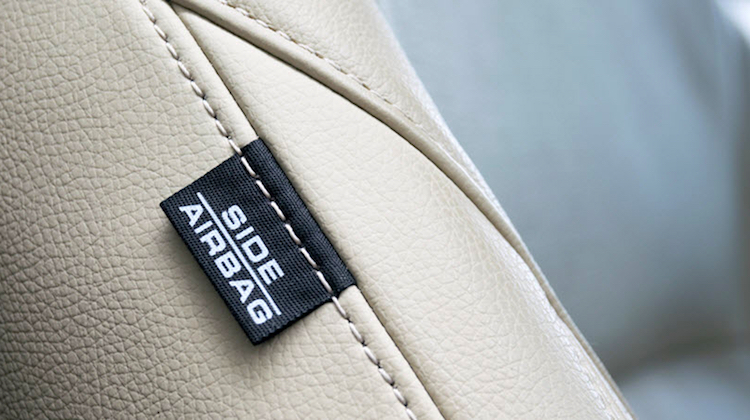 One of the most heated debates in the auto upholstery industry is whether or not shops should repair seats equipped with side impact airbags (SIAB).
I see all kinds of attempts to explain the mysteries of how the seams are sewn, how to replicate them, and whether or not to attempt them at all. As someone who designs OEM seats and has worked for and with Tier 1 suppliers, hopefully I can shed light on the topic.
What constitutes a properly working airbag?
Just because an airbag inflates and blows a seam open doesn't mean it works properly. Sure, it's great the airbag does that but, as with most things, timing is everything.
The most dangerous comments I hear from trimmers who give airbag advice is "don't worry, nothing can hold back that explosion" or "I've tested it myself on scrap seats and the seam blows open, no problem." They mislead others into thinking that just because an airbag inflates, it will work as designed.
The fact is, airbag charges are designed to coincide with the movement of a human body within a crash condition. The charge is timed so that the airbag is fully inflated at the very instant before a body comes in contact with it. Too early, and the bag vents out leaving less cushion for an impact; too late, and the body is already in its path and gets slammed with the full force of the explosion.
To illustrate the point, watch this video of a watermelon dropping on an airbag as it inflates properly, and also with the bag inflating just seven hundredths of a second too late:
What can cause a bag to inflate at the incorrect time? Just about any item that goes into the construction of the airbag seam — which includes the machines used, thread, material and padding.
Manufacturers validate side impact airbags with an array of deployment tests whenever a condition exists that changes any aspect of how the seat is constructed. This is done even when changing manufacturing locations, despite using the EXACT same materials and thread for construction.
The tests vary by manufacturer, but typically consist of deploying airbags in very cold, very hot, and ambient temperatures to verify that the materials chosen perform equally well in all climates. Cold temperatures can cause some materials to crack or break, decreasing deployment times; hot temperatures can cause some materials to expand, therefore delaying deployment.
Failed tests are studied and changes to materials, stitching or other aspects are made to bring the seat into spec to ensure passenger safety.
The anatomy of side impact airbags
Not all airbags are designed the same, have the same parts, or are intended to deploy in the same manner. However, here's how most typical airbags are constructed:
Aside from the actual airbag and its charge, there's also an airbag chute, breakaway or functional seam, and chute reinforcement around surrounding areas.
The airbag chute is what directs that actual bag out of the seam and towards the passenger in a reliable manner. The ends of the chute are typically sewn into the seam by first tack-sewing the edges and then completing a join sew. Airbag chute material can vary, but is typically a woven nylon material with silicone coating on one side, which extends the life of the material and prevents burn-through during charge explosion.
Aside from the airbag itself, the chute takes the brunt of the charge force and makes a clear path for the bag to deploy. Although strong, tearing can happen if the material is over perforated by way of resewing the chute. This is one of the many reasons why you see warning labels on airbag seams instructing you to not resew.
It's not some conspiracy from corporate America to keep you from getting work or fixing things yourself. A weakened chute could alter the path of the airbag deployment to an area that is not beneficial. Worst case scenario, it could even allow the bag to deploy within the seat, squeezing the occupant between the seat and the seat belt, while blowing seat particles throughout the cabin.
Breakaway and functional seams
Despite having one of the most important functions, the largest amount of misinformation floating around our industry is about breakaway seams. Guesswork, theories, and "what should work" are all over the internet misguiding trimmers and always pop up when questions about airbags are asked.
The specs of a breakaway seam are not hard to find if you spend a few minutes searching online.
Typically, these seams are sewn using nylon thread in a TEX size 30-90. They're sewn at a stitch length that allows the seam to break at the desired speed (usually between 5-7 stitches per inch). Sometimes the bobbin thread is smaller than the top thread, and sometimes both are equal.
When it comes to sewing breakaway seams, there is no standard. Manufacturers set their own guidelines based on how they need the seam to perform. Trimmers often assume that as long as the thread is small or weak and the seat sews tight, that's all that's needed for the breakaway seam to perform as intended — but that's incorrect.
While most trimmers are somewhat familiar with breakaway seams, some have never even heard of functional seams. These are adjacent or joining seams that must also tear open for proper deployment of an airbag. In many cases, these are just as critical as breakaway seams. In fact, they may even be sewn with the same specs.
The last piece of the breakaway or functional seams is typically the decorative top stitch, which can help reinforce the chute to the outer material. It's important to note that seam selvage is always split open on an airbag seam so the two halves can separate cleanly. On a deck sew, only one side is flipped under with the other side floating, otherwise known as an "open deck." On a French seam, both sides of the selvage are sewn under their respective side.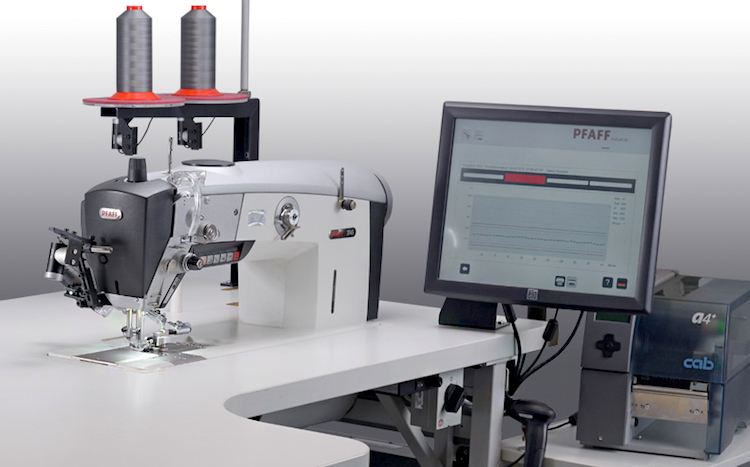 Airbag seam sewing machines are an instrument commonly used to ensure consistency and reliability of breakaway and functional seams. These machines track both tension and stitch count on critical areas of the airbag seam. Once complete, a barcode label is printed and sewn at the end of the seam, which allows that particular seam to be traced to a batch and lot number. Because an even seam break during an accident is crucial and defects can be deadly, these machines have become an industry standard to document a properly sewn airbag seam.
Chute reinforcement
In order to contain and direct the airbag itself, the back of the chute needs to be secured. Typically, this is done by joining the two halves of the chute together by way of a seam, although metal reinforcements and bonded attachment points are not uncommon.
It's important to note that this joint is made to prevent any rearward or incorrect deployment of the airbag. It's often sewn with heavy gauge thread (TEX 135-207), sometimes folding or double stitching to ensure no breakage upon deployment, as a failed reinforcement seam can be as detrimental as a poorly executed breakaway seam.
Sometimes, reinforcement efforts are done in areas around the breakaway seam as well to prevent flaps or parts of the trim cover from flying away and becoming projectiles.
Sensors and electronics
As more safety technology gets incorporated into cars, seats are also becoming smarter.
Manufacturers are increasingly using sensors to gather information on passengers to modify how an airbag can deploy more effectively. This may include everything from weight, height, and even how a passenger is seated.
Installing a new trim cover, even when the airbag is not part of the trim itself, can have drastic effect. By altering the layering of materials (trim and foam) on these sensors, you can easily alter the results of the sensors, causing confusion to the airbag system. In an accident, a full-grown adult might receive an airbag deployment program intended for someone much smaller or vice versa.
The amount of data collected in modern vehicles for safety purposes is unbelievable. Having worked for years in traditional trim, it is so easy to dismiss critical devices as "dumb" sensors when our industry is just now being exposed to more state-of-the-art design.
Conclusion
Airbags are safety features that work in incredibly violent ways. Installed incorrectly, they can be more dangerous than the car accidents from which they are designed to protect us.
As trimmers, we often walk a fine line between what is safe and what is not when deciphering new technologies and learning how to incorporate them into our services. However, we have a duty to ensure that nothing we do to clients' cars puts them or others unknowingly in danger.
When it comes to repairing seats with side impact airbags, some trimmers feel pressured by customers into sewing beyond their comfort zone and taking jobs or chances that they shouldn't. These trimmers sometimes rely on casual online feedback because it sounds correct. Others simply speculate what "should work."
At the end of the day, trimmers need to ask themselves if taking a job is worth the cost of someone's life. And if it's not, simply declining the work.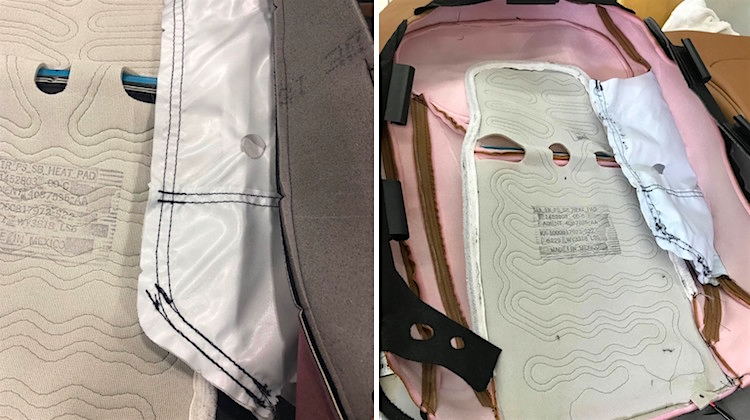 Some customers might not understand and become angry, but most will value an educated or concerned answer that explains to them what exactly is at risk — not just for them, but all passengers.
I've spoken with many customers who were not aware of the potential danger of having their seats retrimmed, as the trimmer made no mention of their abilities or concerns regarding airbags. Some jobs I've encountered were done with care and precision, while others were almost guaranteed to fail and cause injury because the trimmer did not want to turn away business.
Despite warnings, some trimmers are still going to repair seats with side impact airbags, risking their business' livelihood and customers' safety. There are always those who feel they know more than the rest or feel they have one or two good examples that justify their decisions.
To those trimmers, I ask that you at least make a concerted effort to examine the construction of the seams before you take anything apart. Measure the stitch count, examine the weight of the thread on both bobbin and top stitch, and note any small details in order to replicate the seam as close as possible. And by all means, please educate customers on the risks that they are requesting you to take.
---
Joseph Pavich is an interior design engineer for Tesla Motors. He's also the former owner and operator of JPM Coachworks and has worked for Tier 1 suppliers such as Adient and Futuris. All information and opinions expressed in this article are Pavich's alone and do not necessarily represent the viewpoints of Tesla Motors.