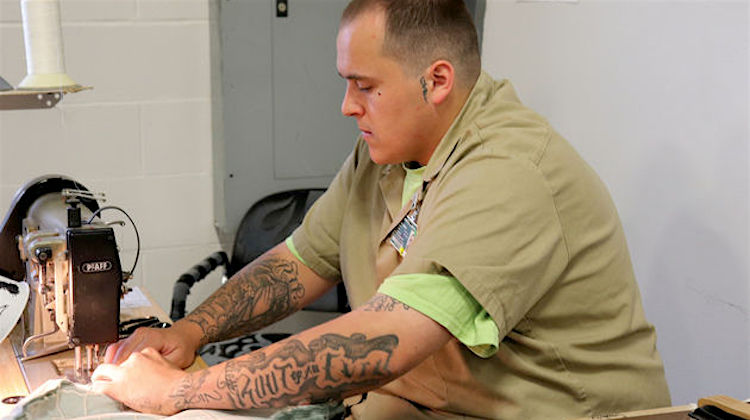 Not everyone learns auto upholstery at a trade school or through an apprenticeship. Some pick it up in prison.
Inmates at Airway Heights Corrections Center in Washington are among those who learn the craft while behind bars.
The minimum- to medium-security prison in Spokane County houses an estimated 2,200 men.
It's also the only prison in the state to offer an upholstery program, where inmates learn skills that could potentially change their lives.
"A lot of these guys, all they had done prior to prison is sell drugs," upholstery teacher Ron Pearson recently told Cheney Free Press. "Now I have students in just about every shop in Spokane."
Pearson has been teaching upholstery at prisons across the state for 35 years. During that time, he has worked with thousands of inmates.
Students prefer auto upholstery
Such programs are important because they reduce recidivism, said Kevin House, associate dean of corrections education.
"Owners of stores come to the prison to conduct interviews so they can offer guys jobs the minute they get out," he said. "Upholstery is kind of a dying art, so you can get a job anywhere in the country."
The upholstery program at Airway Heights teaches furniture and automotive upholstery, but most inmates prefer the latter.
"A lot of guys come in because they're interested in the automotive side," Pearson said.
Inmate Gene Olson completed the program in December 2018, and now works as a teacher's aid. He'll be released from prison in March 2020.
"I think the program gives these guys something to look forward to, something to lean on," Olson said. "Without it, I guarantee guys would be back here a lot more."
Improving prison life
Christopher Huntzinger, another inmate, said the upholstery classes make prison life more bearable.
"The creative aspect makes my time in prison a lot easier," he said. "There's something satisfying about turning someone's trash into treasure."
However, the program isn't open to all inmates. To enroll, they must have a GED and no major disciplinary infractions on their prison records. And to earn a one-year certification, they must complete math, human relations and English classes.
Although the prison accepts work from local organizations and private residents, students aren't paid. But those who complete the program and become teacher's aides can earn up to 40 cents per hour.
It's not clear how much Airway Heights' upholstery program makes. But a similar prison program in Nevada earns more than $430,000 per year.
Whatever profit Airway Heights makes is funneled back into the program to pay for tools, materials and supplies. It's how they keep the program going and the craft growing.
To read the full story by Cheney Free Press, see "The upholstery artists of AH Corrections Center."