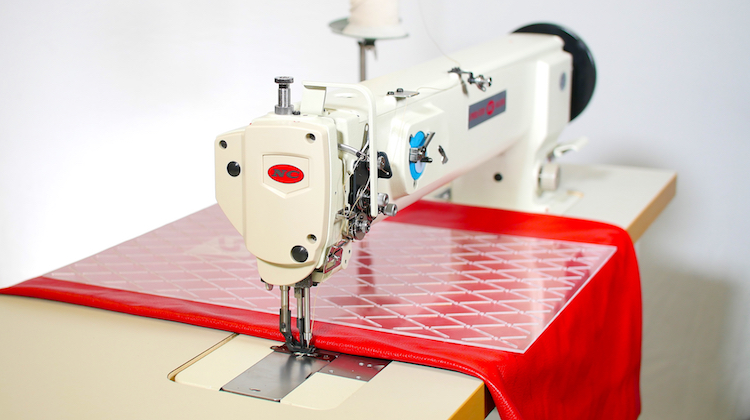 NC Carpet Binding & Equipment promised us a NEW SEWING MACHINE and DOOR-BUSTER DEALS — and they delivered both!
Once a year, NC SLASHES PRICES on its machines and puts them all on display at the SEMA Show. But you don't have to attend the show to take advantage of the deals.
This year's sale STARTS TODAY and runs through November 8, the last day of the 2019 SEMA Show.
And YES, their new machine is on sale too…
Introducing the NC1508L25 Long Arm!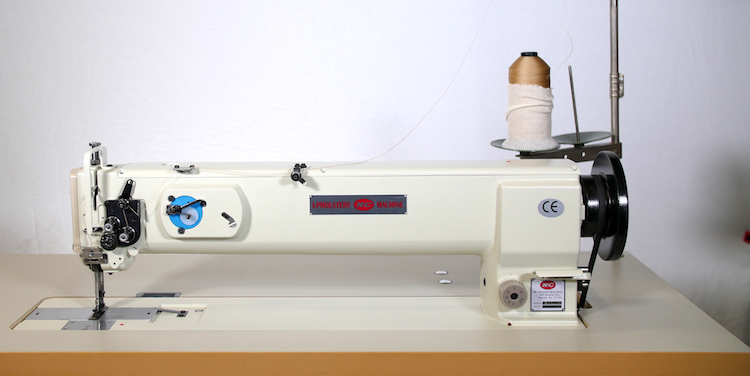 This all-new, compound-feed, walking-foot machine features a 25″ LONG ARM. With over two feet of inside-sewing area, it's perfect for large projects and intricate stitch work.
"If you've grown tired of folding or creasing leather, this long arm will streamline your operation – allowing you to work easier and with greater efficiency," said Mal Maher, CEO.
The NC1508L25 has extra high lift and is capable of sewing multiple layers of thick material with ease. Of course, it's also equipped with big bobbin, reverse and a SERVO WORKSTATION.
This machine is IDEAL FOR AUTO UPHOLSTERY, but also marine, aviation and furniture applications.
Door-Buster Deals!
Yes, the NC1508L25 is on SALE — and it's not the only machine!
NC is slashing prices on all their popular sewing machines, skivers and surgers.
That's not all! NC is offering FREE SHIPPING, NO TAXES and an unprecedented 5-YEAR LIMITED WARRANTY (the industry standard is 1 year).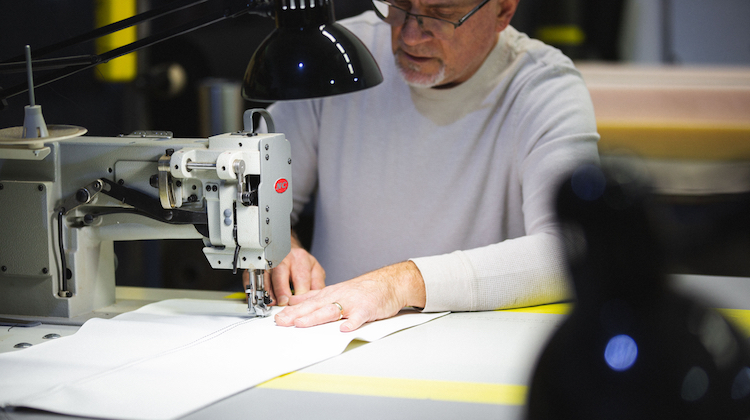 "Our machines arrive fully assembled; None of that knocked-down nonsense. They are triple checked before shipped and set to your specifications," said Maher.
NC1508L25: $5750 / NOW $4950 + Free Shipping
This all-new 25″ long-arm will make sewing any large project a breeze.
NC6L: $4900 / NOW $4299 + Free Shipping
How about a 30″ long-arm? This is NC's biggest selling specialty unit.
NC11: $3,500 / NOW $3099 + Free Shipping
Imagine all the possibilities with this twin-needle, flat-bed walking-foot.
NC11L: $5,500 / NOW $4799 + Free Shipping
Need increased height? This 25″ twin-needle, long-arm will do the trick.
NC1508NH: $1,850 / NOW $1750 + Free Shipping
Sew anything with ease with this extra heavy-duty, walking-foot machine.
NC1508NH w/ Binding Attachment: $2500 / NOW $2250 + Free Shipping
Everything the NC1508NH is, plus an additional binding attachment.
NC-POST: $3,950 / NOW $3499 + Free Shipping
This twin-needle, post-bed, walking-foot machine is equipped with a split bar.
NC1646-OS: $12,900 / NOW $10,750 + Free Shipping
Set off any custom interior with this automated decorative stitch machine.
NC6: $1850 / NOW $1750 + Free Shipping
On sale since the 1970s, this single-needle, walking-foot is a workhorse.
NC 81200AIR Auto Mat Serger: $6,500 / NOW $5,850 + Free Shipping
This industry standard machine has been made in the USA for more than 70 years.
NC High End Leather Skiver: $1,600 / NOW $1399 + $150 Flat Rate Shipping
Get rid of unsightly bulk with this awesome leather skiver.
NC553: $2,700 / NOW $2299 + Free Shipping
In the market for a cylinder-bed, walking-foot machine? You've found it!
NCBAC: $8000 / NOW $7199 + Free Shipping
This high-volume, bobbinless auto-mat carpet binder tackles acute angles and inside circles.
NC5L: $5,500 / NOW $4899 + Free Shipping
From straight stitches to zig zags, this 21″ walking-foot machine has you covered.
NC7: $7,000 / NOW $6199 + Free Shipping
For shops that need it, this extra heavy-duty lockstitch machine can sew through anything.
All these machines — as well as a full inventory of industrial cutting tools, binding tapes, auto mat yarns and JK Tapes — will be on display at NC's booth (#50829, Performance Pavillion) at the 2019 SEMA Show.
Are you going to SEMA?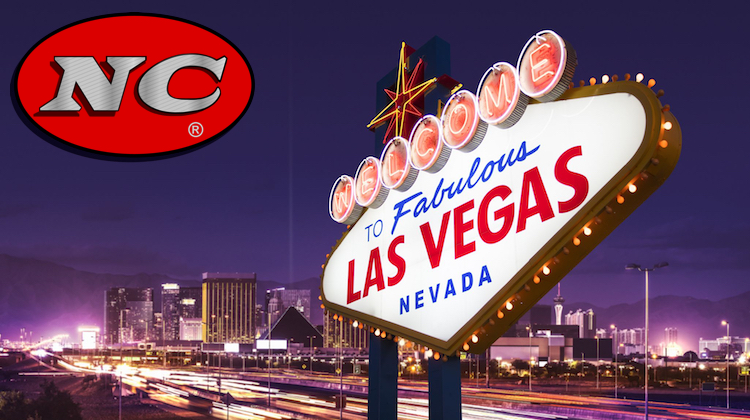 If so, you'll want to STOP BY NC'S BOOTH (#50829, Performance Pavillion)!
There, you'll find the LARGEST GATHERING OF TRIMMERS in the world. Every year, we meet at NC's booth to NETWORK, enter CONTESTS, win PRIZES, TEST DRIVE MACHINES and SCORE DEALS.
It's become a tradition! So swing through, meet your favorite trimmer and have blast with us!
"We'd love the opportunity to earn your business. We welcome you to join the NC Family," said Maher.
Huge Contests & Giveaways!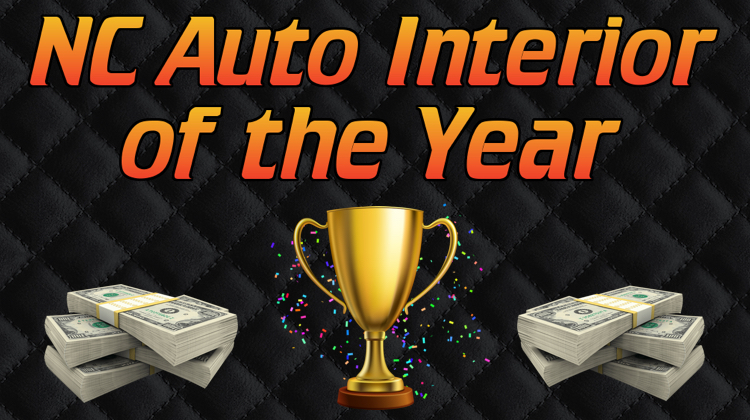 This year, NC will be hosting its second annual "NC Auto Interior of the Year" award, voted on by the NC SEMA team, Douglass Interior Products and The Hog Ring!
The WINNER will be announced at NC's booth on the second day of the show. The trimmer will take home an impressive TROPHY, $2,000 GIFT CERTIFICATE to Douglass Interior Products, SHOP PROFILE on The Hog Ring and, of course, bragging rights!
On the third day of the show, a drawing for ANOTHER WINNER will be held at Douglass Interior Products' booth. That winner gets a $1,000 GIFT CERTIFICATE towards Douglass products and a new $1600 NC HIGH-END LEATHER SKIVER.
Click here for details on how to enter!
Network With Other Trimmers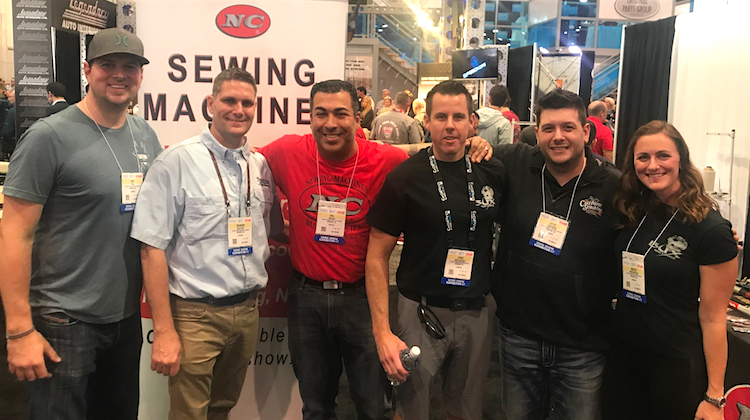 The SEMA Show is also a great opportunity to NETWORK with some of the best trimmers in the industry.
Stopping by NC's booth to TALK SHOP will be trimmers from:
"Our booth has become a central meeting point for trimmers around the globe. The camaraderie, shared techniques and meet-ups have been a blast and a true learning experience for me," said Maher.
TRUST US, this isn't an event you want to miss!
The 2019 SEMA Show will be held November 5 – November 8 in Las Vegas, Nevada. For details, visit SEMAShow.com.
To learn more about NC Carpet Binding & Equipment, visit N-CCarpet.com. Follow them on Instagram at @NC_Carpet_Binding.