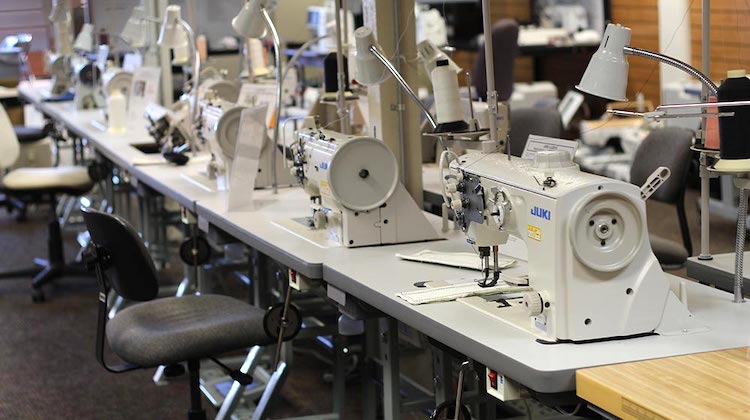 There's a shortage of sewing machines — and, yes, the coronavirus pandemic is to blame.
Sewing machine manufacturers and distributors across the United States are reporting a surge in sewing machine sales. In fact, home and industrial sewing machines are flying so quickly off of shelves that many are on back order.
Industry insiders say home sewing machines, typically used for crafts and hemming clothes, are selling to bored people seeking to learn new skills during quarantine.
Meanwhile, companies are buying industrial sewing machines by the truckload to manufacture face masks, gowns and other protective equipment for health care workers, schools and the general public.
"The sewing fervor really erupted in April, almost immediately after the CDC said everyone should wear masks," Jeff Fuller, vice president of marketing for Tacony Corporation, told CNN. "It was a Friday when the new guidelines were announced. By Monday, we saw the largest spike in sewing machine demand we've ever seen."
Fuller said demand increased "five to eight times" in April. It slowed down in recent months, but demand continues to be strong. "No one in our industry expected this huge spike in sales," he added.
In fact, one research firm said that while most markets are shrinking due to the pandemic and a looming economic recession, the sewing machine market is actually growing. Research And Markets even revised its growth projection to say the global market for sewing machines will increase by $11.2 billion over the next seven years.
That's great news for manufacturers and distributors. But until they can meet increased demand, trim shops and other businesses that rely on sewing equipment will bear the brunt of those growing pains.
Mal Maher, CEO of NC Carpet Binding & Equipment, had the foresight to stock up on sewing machines once the pandemic hit, and is only now experiencing shortages.
The popular Juki 1508 is sold out along the entire East Coast, he said. Trimmers hoping to buy one will have to wait at least a month. "Long arms and twin needs machines have increased in popularity," he added. "And demand for plain sewers and house machines is at an all time high."
Maher said a lot of shops that pivoted to manufacturing protective equipment have since returned to focusing on auto upholstery. But with industry events like SEMA canceled, car builders are busier than ever.
"From what trimmers tell me, car collectors haven't been able to show their cars and attend car-related events. So they're using this time to redo their interiors." That puts a lot of shops in the market for better sewing machines at a time when supply is low.
"Thankfully, we have plenty of NC sewing machines, but we're currently low on skivers and 1508 long arms," said Maher.
These sudden changes have resulted in price hikes and increased demand for used and refurbished models, analysts say.
George Moore of Moore's Sewing Centers in Southern California told CNN his stores always carried refurbished sewing machines, but didn't actively advertise them to customers. Moore changed that policy amid the supply shortage.
Linda Fabrizio, co-owner of Domestic Sewing Center in Warren, Ohio, has also been selling refurbished models, which customers can pick up at a discount.
"These trade-ins have been really a blessing, because we're servicing those out as fast as we can, and those are flying off the shelves, too," Fabrizio told Tribune Chronicle.
Maher said demand for used and refurbished models has always been high, but warns customers to do their homework when it comes to buying older models. "Select few dealers will truly refurbish a unit," he said. "We go the extra mile by setting up all refurbished walking foot units with a new servo motor workstation and provide a new machine warranty."
And while a lot of distributors are raising their prices, NC Carpet & Binding Equipment has not. In fact, they actually slashed them.
"We have no interest in price gouging," said Maher. "Instead, we're keeping prices where they've been, offering the same SEMA Specials as last year, and doing live trade shows to educate those new to the field. We don't let anyone or anything dictate how we operate."
His company recently announced a huge sale on sewing machines and a live virtual trade show to see them in action. "We're even giving away a $5,000 NC6L 30″ Long Arm Sewing Machine to one lucky trimmer," he said.
"Join us on November 4th for our live trade show. Get involved and win NC's most popular specialty machine, he added.