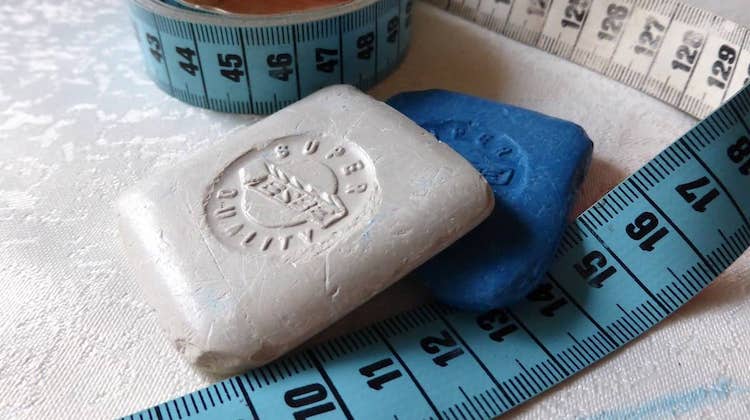 As auto trimmers, we spend a lot of time making patterns for seat covers and other interior components. It's a difficult task, but using the wrong tools can make it even harder.
That's why Albright's Supply created a video explaining the pros and cons of all the different types of marking tools — including chalk, tailors chalk, china markers and Space Pens.
The helpful video is part of their "Interior Insight" series, where they tackle all sorts of issues related to upholstery tools, supplies and materials.
Chalk
Chalk provides a light marking on fabrics and vinyl and is extremely easy to clean. It does need to be sharpened quite often to keep your lines tight. Chalk may not be suitable for drawing patterns that need to stay on your fabric until you can finish sewing them together, but you can be confident that it will not leave any lasting marks.
How to remove: Chalk flakes off by itself, but can also be wiped away with a damp cloth.
Tailors Chalk
Tailors chalk is a clay-based chalk that's easy to rub away and works well on woven fabrics, vinyls and carpets. It comes in a variety of shapes so that it can keep its sharp edge. It's easy to sharpen and has a waxy coating so chalk doesn't come off on your hands. Tailors chalk is also great for marking on glass.
How to remove: Tailors chalk can be brushed off with a soft bristle tooth brush. Never use heat or steam to remove, as it can leave behind a waxy residue.
China Marker
China markers or grease pencils are best suited for non-porous surfaces, such as plastic, glass, metal and rubber. This marker is formulated to resist moisture and fading, and it's paper-wrapped so it never needs sharpening. They can be sharpened by pulling on a string to reveal more of the point.
How to remove: China markings can usually be wiped off with a damp cloth or dish soap and water. But these marks are often difficult to get off of porous surfaces, such as woven materials. 
Space Pen
Space Pens are silver ink ballpoint pens from Fisher that allow you to mark on vinyl, leather and rubber to create patterns that stay put when you need them. The silver ink stands out on light and dark colors, and the ink won't bleed or rub off. The interesting thing is that this pen can write at any angle, even upside down. 
How to remove: Space Pen ink is 100% water-soluble, so just wipe it off using a mild dish detergent, water and paper towel.
Of course, auto trimmers should always test any marking tools on an inconspicuous part of the fabric to make sure it can easily be removed.
Family owned and operated since 1947, Albright's Supply has its feet planted firmly in our craft. Chris Albright, who runs the company, is a second-generation trimmer who grew up cutting, sewing and installing seat covers just like us.
To learn more about Albright's Supply and browse their online inventory, visit AlbrightsSupply.com. To set up a business account today call: (662) 287-1451.
Of course, you can also follow them on Facebook, Twitter and Instagram.
Related Stories: