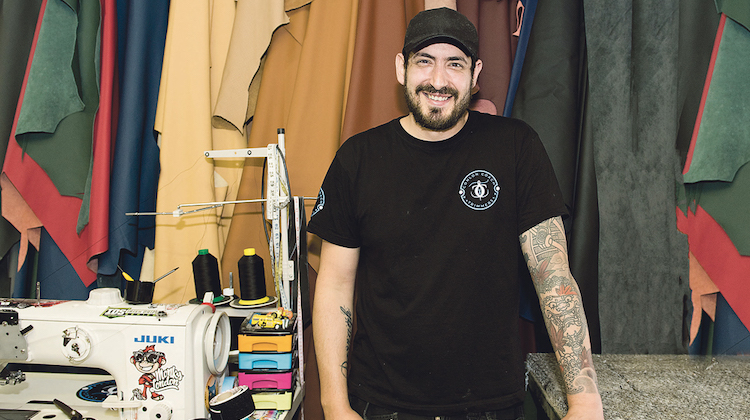 Carl Conlon opened his trim shop in February of 2019, months before the coronavirus pandemic hit, shutting down economies across the world. But that didn't stop him from pursuing his dream and even growing his business.
For Conlon, opening Conlon Coach Trimmers in Cookstown, Ireland, was the next step in his career. He had spent years honing his skills at other shops, and felt ready to branch out on his own.
"I was working for other companies in the same sector, so I was passionate about cars and knew there was a market, be it small, in Ireland, with friends and friends of friends asking me to do things in their cars," he told Echo.
"I had a couple of guys asking me to do show cars and it was kind of working at the time, so I decided to go 'hell for leather' with it."
A few months later the pandemic struck, plunging small businesses across the world into a state of uncertainty. Conlon, however, was committed to seeing his new enterprise through.
One of the first things he did was seek out business guidance from the Local Enterprise Office (LEO), Ireland's version of the United States' Small Business Administration (SBA).
"When I first went into business, I didn't have a great understanding of some things for the business, so I did the LEO start-your-own-business course on the March that I started and it taught me about things such as accountants, bookkeeping, advertising – all the important things and skills you need to know," he said.
"If I hadn't done that course, I wouldn't have known that I needed to get an accountant or even something as simple as doing my income tax at the end of the year and understanding it – 100 per cent if I hadn't gone there, I would be a fish out of water."
Next, he did some good old fashion guerrilla marketing. "When I started first, I didn't advertise, it was just word of mouth so I was going around and anybody that had a nice car I would give them a business card," he said.
"The show cars that I did for friends were placed really high in shows and then their friends wanted work done, so it worked like that, slowly building up a good reputation."
Before he knew it, Conlon Coach Trimmers' list of clients began to grow. In fact, the business has expanded so fast that Conlon is now searching for a bigger shop.
Of course, the road to success hasn't been easy and Conlon still has many years of hard work ahead of him. But if the last two years are any indication of what's in store for him, the future looks bright.
When Echo asked Conlon if he has any advice for other aspiring business owners, he encouraged them to "not be afraid and just go for it 100 percent."
"At the start I was afraid to go out on my own and now I am afraid to expand – there's always these little steps and hurdles you are scared to cross, but it is definitely worth it when you do."
To read the full article, see "Car upholstery firm is set to expand 'hell for leather' soon." Learn more about Conlon Coach Trimmers by following them on Instagram.
Related Stories: