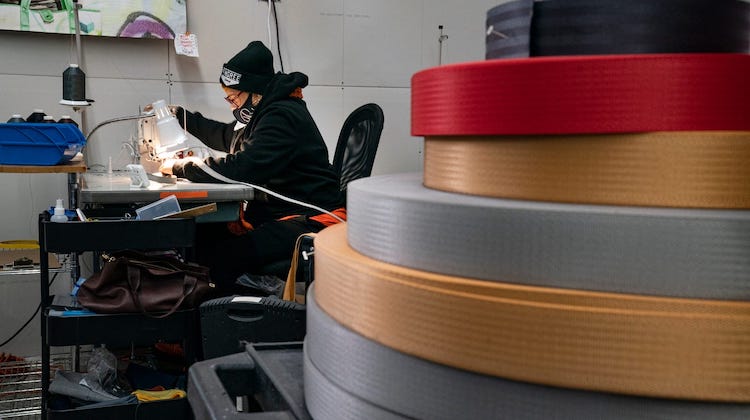 A leather workshop in Detroit, Michigan, is making headlines for transforming old, discarded seat belts into dog leashes.
Pingree Detroit, which employs native Detroiters and military veterans, usually makes leather wallets, backpacks, keychains and other products from leather scraps donated to them from local automakers. In fact, Pingree was one of two companies chosen by Ford last year to receive a treasure trove of unused leather.
Still, Pingree kept on getting requests for dog collars and leashes — so, naturally, they turned to seat belts.
At first, team members roamed scrap yards and cut seat belts out of junked cars. But after a reporter caught wind of the project, they found a more reliable source.
A manager at Autoliv, a nearby company that manufactures seat belt webbing and other safety materials, contacted Pingree and offered to help, according to Detroit Free Press.
He told them he liked what Pingree was doing and thought it aligned perfectly with Autoliv's goal of eliminating waste.
The two companies have since worked out a deal where Pingree receive's Autoliv's scrap seat belt webbing, which they upcycle into dog collars, leashes and other products.
So far, Autoliv has donated 1,500 yards of scrap seat belt webbing, and Pingree is nearly sold out of the collars and leashes they make and sell for $29.99 each.
The partnership is a great example of how two different companies operating in a similar space can partner to create a win-win for everyone involved.
To read more about the partnership, check out the full article in Detroit Free Press.
Related Stories: