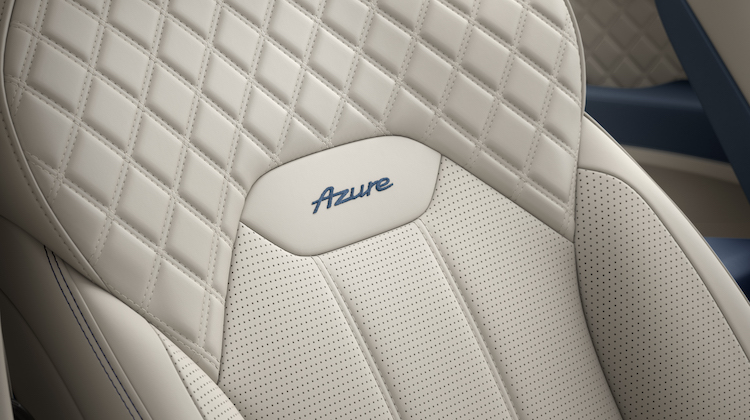 Bentley Motors' all-new Azure range includes diamond pleats rebranded as… wellness quilting?
The super luxury automaker says it hired neuroscientists to help it design an interior cabin that will maximize passengers' wellbeing. Basically, they helped select materials, colors and patterns that will appeal to our senses and make us feel good.
"To create the Azure range, we consulted with neuroscientists to understand the interrelationship of colour, texture, tactility and even scent to create an atmosphere of relaxed serenity," Maria Mulder, head of Colour & Trim at Bentley Motors, said in a news release. "When we see pleasing forms, shapes and colours our brains release chemicals such as dopamine that not only make us feel good but are good for our body and sense of wellbeing. Sensory receptors convert physical stimuli in neural activity, creating changes in our brain and nervous system. Every fabric, sound, motion, colour and touch continuously impacts our nervous system and the Azure cabin has been finessed accordingly."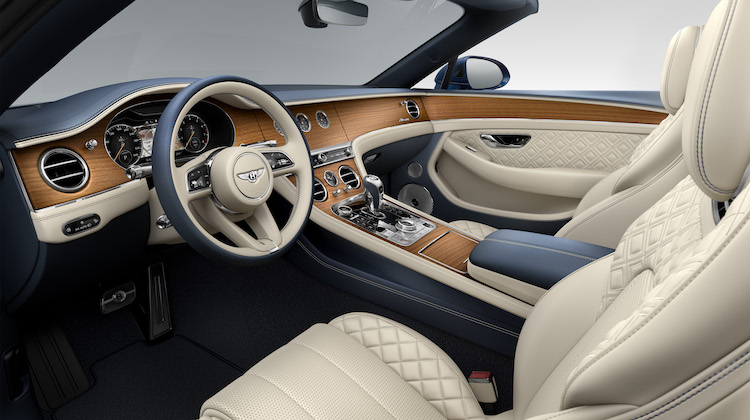 So what design elements did these neuroscientists recommend Bentley employ in their cabins? Premium leather, wood grain, diamond pleats, contrast stitches and piping.
Sounds pretty basic to me — but check out the bizarre way Bentley describes it:
To that end, the Azure interior design specification includes "wellness quilting"; the fractal patterns of precisely crafted diamond quilted upholstery create an eye-pleasing interplay of light and shade and provide an irresistible invitation to explore them with one's fingertips. And while Bentley customers will always have access to the full range of wood veneers, the Azure range offer a choice of three open pore veneers; Dark Walnut, Crown-Cut Walnut and Koa, whose softer, satin, reflective quality evokes a mood of calm.
Azure customers also have a full range of 15 hide colours and colour splits to choose from, with contrast stitching as standard and seat piping as a no-cost option. Complementing these visual pleasures are Azure illuminated treadplates, Bentley 'B' foot pedals, mood lighting and a duo-tone steering wheel with heating function.
Really? This is all their neuroscientists could come up with? A rebrand of old-school diamond pleats?
I don't know about you, but I'm pretty underwhelmed. This sounds like a standard Bentley interior — which is nice, don't get me wrong. But who are they kidding with this new age mumbo jumbo?
Related Stories: