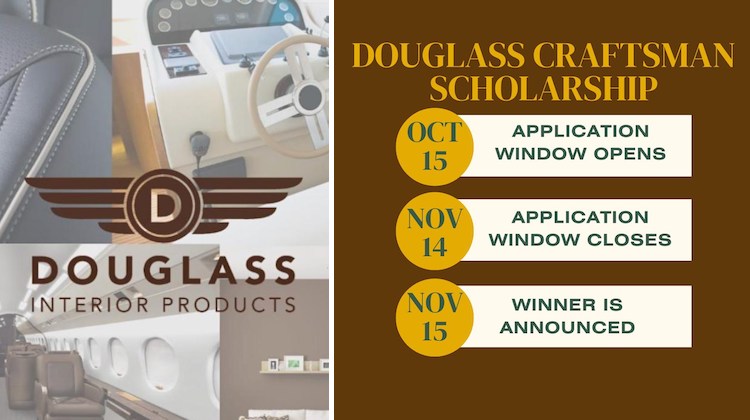 Douglass Interior Products is offering a one-of-a-kind scholarship to an apprentice or new upholsterer looking to break into the industry.
"Having been in the upholstery business since 1978, we have seen this industry change and grow in the most exciting and innovative ways," Douglass said in a statement. "We are inspired by the craftsmanship of so many builders we have the privilege to work with, and are more motivated than ever to cultivate the new generation of upholsterers."
To do that, Douglass collaborated with partners across the industry to create a scholarship program like no other. The winner will receive…
♦ A trip to Scottish Leather Group – Muirhead: Go on a weeklong trip to the Muirhead Tannery in Scotland, where you'll take a tour of the facilities and learn the ins and outs of their leather cut and sew practices.
♦ A Bitchin' Stitchin' Course: Take a Bitchin' Stitchin' course to learn vehicle door panel building or seat building. The weekend courses are taught by trimmers Justin Stephens and Phil Cato.
♦ An Industry Mentor: Get matched with a mentor for one year to bounce ideas off and connect you with major players in the industry.
♦ Access to The Lucky Needle: Get full access to The Lucky Needle's instructional platform, including more than 24 hours of online lessons.
♦ A "Street Rod Interiors" DVD Set: Receive trimmer Sid Chavers' popular instructional DVD course, including lessons covering automotive seats, door panels and headliners.
♦ Ron Mangus Book Set: Enjoy two of the craft's most popular pictorial books by trimmer Ron Mangus.
The scholarship is open to new upholsterers and designers who are dedicated to taking their career to new heights.
"If you are, or know of, a new upholsterer or someone currently apprenticing at an experienced shop, we would love them to apply for our first annual Douglass Interior Craftsman Scholarship," Douglass said.
To apply, complete the Douglass Interior Craftsman Scholarship application by November 14. The winner will be announced the next day.
To learn more about Douglass Interior Products and sample their quality leather, fabric and carpets, visit DouglassInteriorProducts.com. You can follow them on Instagram and Facebook.
Related Stories: