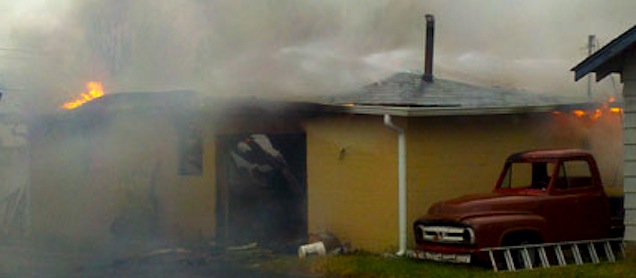 Voris Upholstery and Randy's Trim Shop of Whiteland, Indiana suffered a devastating fire on Wednesday that left one man hurt – with burns to his head and leg. No word on what caused the fire.
According to reports, firemen that responded to the scene immediately began pushing out customers' cars from inside the garage, but ran into trouble when the closest fire hydrant didn't work.
Business owner Randall Noblit told local media that the shops were a total loss. Thousands of dollars worth of tools and products were burnt. "Customer stuff…I don't know. I'm beside myself, really," he said.
The man left injured by the fire, a 55-year old Californian, is said to be in stable condition and recovering.
Our thoughts and prayers go out to him and anyone else who depended on Voris Upholstery and Randy's Trim Shop for there livelihoods. We hope that you rebuild and come back bigger and stronger than ever before.
Protect Your Shop
Situations like this are always tough. As shop owners, we take steps to fire-proof our businesses, but there's always a chance that one will break out. The glue, cleaners and other toxins we stock only add to the worry.
That is why it is absolutely necessary that we regularly review our insurance policies to make certain that they cover the value of our buildings, products, tools and customers' cars.
If you haven't already, read The Hog Ring's blog posting titled "Guarding Your Shop From Natural Disasters". It provides some helpful advice on how to limit your losses in the event of a fire.
— — —
The Hog Ring is the #1 online community for auto upholstery professionals and enthusiasts. Here you can browse pictures, read news and connect with others who share your passion for auto upholstery. You can even check us out on Facebook and Twitter!