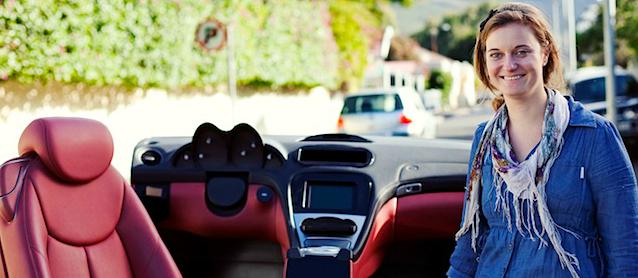 Repurposing car interiors for home decor is not new. While auto trimmers have been doing it for years, new companies – like David Clark Designs – have recently taken the practice upscale. Now Mercedes-Benz is getting in on the action.
Benz has challenged South African designer Katie Thompson to upcycle the front cabin of its popular SL model into a functional, high-end office room setting.
Katie, who specializes in breathing new life into discarded junk, caught the German automaker's attention after several of her designs made a splash on the interior-design scene. At only 27 years old, she's regarded as an innovator and visionary of repurposed home furnishings.
Describing the challenge and its results, Benz writes:
As part of the assignment, the functional artist picked seven elements from the wealth of individual Mercedes-Benz SL components to recreate the fixtures and furnishings of an office. Thanks to her ability to picture these designs in front of her mind's eye all the way down to the tiniest detail – without a single sketch or stroke – Thompson passed this unusual task and test with flying colours. Together with local artisans and craftsmen she turned the car's dashboard into a unique desk, replete with plenty of new practical functions: Here, the former speedometer became a magnetised pad, the air vents gave way to a business card slot and the ignition lock now sparks office technology via a USB charger. The driver's seat gained a new lease of life as a comfortable office chair, while the oval speed and rev counter now displays a gently curved world clock. And in order to underscore the dynamic drive experience – during office hours and beyond – Thompson transformed the rear-view mirror into a desk lamp, complemented by a gas and brake pedal pen holder. [more]
The final product is definitely cool – and would look perfectly at home in any auto upholstery shop's office. However, I'd probably try it with a different model. Ripping the dash out of a $100K car doesn't sit well with my stomach.